It does not matter if you are looking for heavy haul transportation services or if you are considering a different type of shipping service, you have likely heard of the term "flatbed" numerous times. While you may have heard the term before, do you know what this type of service really is?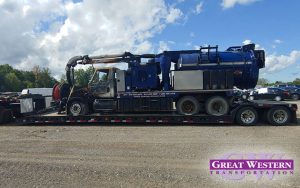 Flatbed trucking refers to a shipping method that is used to transport oversized loads or wide items from Point A to Point B. Flatbed trucks will generally fall under the category of heavy haulers. Flatbed trucks are often requested when the following type of equipment need to be moved:
Heavy machinery
Construction equipment
Time-sensitive equipment
Building supplies
The above equipment cannot be transported safely using traditional vehicles, but it can be transported safely using flatbed trucking due to the wide and flat surface on the truck. A flatbed truck will allow equipment and the other types of shipments to be loaded and unloaded with ease. There are multiple types of flatbed trucks, and the type of flatbed truck you will need will often depend on the size and weight of your shipments.
Whenever you are looking for a versatile shipping option for your heavy and time-sensitive shipments, flatbed trucking should be one of your top options. Since flatbed trucking does not require you to visit a loading dock, you will have the ability to load and unload shipments from any location. Also, since you can load a variety of things on the truck, you will not have to use multiple trucks or make multiple trips in order to complete one shipment.
If you have been searching for a shipping method for your construction equipment or other heavy haul needs, we would recommend asking about flatbed trucking. If you are interested in learning more about flatbed trucking and how it can be an answer to your problem, contact Great Western Transportation today.