According to a recent article from Business Insider, the demand for trucks capable of hauling heavy items, such as construction equipment, has skyrocketed this year. There was a 141 percent increase in orders for heavy-haul trucks in June over the same month last year, the article noted.
The reason these trucks are in such high demand has to do not only with an increase in freight needing to be shipped in the face of strong economic growth, but also in the inability of the manufacturers of Class 8 trucks to keep up with the orders from companies needing to grow their fleets, and a lack of drivers to operate the trucks. This, combined with rising fuel costs and long delays, has caused headaches for many shippers, the article states.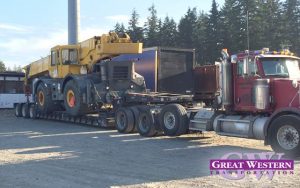 Shippers should see some relief in the second half of the year as truck manufacturers whittle down the backlog of orders for heavy-haul trucks, the Business Insider reports. However, it remains to be seen whether or not fuel prices will decrease or the driver shortage will subside.
Are you in need of a heavy-haul truck to ship your construction equipment, and can't wait for the shipping conditions to improve? Heavy-haul shipping can be complex. In addition to the high demand on the shipping industry, permits may also be required due to weight restrictions in states and municipalities throughout the continental United States and Canada. Great Western can help. We not only have access to the resources needed to ship your construction equipment, but the know-how to handle the requirements that must be met in order to get your equipment to you safely and as quickly as possible. For more information or to find out if your load is large enough to require the use of special equipment and a heavy-haul truck, contact us.