There are various things that you will have to consider when you are involved with equipment transportation, especially if these are items that have been purchased in an auction. Unfortunately, many people do not think about all the details. Instead, they only think about a few of the details. After you have placed the winning bid, you will have many things to address, including the following:
confirmation of delivery
deadlines
agreements
weather
One of the biggest mistakes people make when it comes to finding transportation for equipment is confirming the address. You waited hours in the pouring rain or the scorching sun just so you can bid on the piece of equipment you really wanted. After waiting for your item to be placed up for auction, you make the winning bid. After you have paid for the item you really wanted, you have to find an equipment transportation company to take the item to its destination.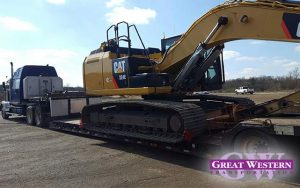 Did you give the transportation company the right information? Does the transportation company know who they are supposed to contact if there is a problem? No one wants to think negatively, but emergencies do happen, the weather is unpredictable, and there can be numerous traffic delays. When problems arise, will everyone be on the same page?  It is very important that you remember to give the correct information the transportation service who will be responsible for transporting your equipment.
When you win an auction, the equipment you purchased has to get to your home, your business's premises, a warehouse, etc. safely and carefully. This is why it is important for you to find the right transportation service. It is also important that you get all the details correct, regardless of how small you think the details may be.