Is your construction company shipping equipment across the country for a job? Perhaps your business is selling construction equipment and needs to get it to an auction location for sale. No matter what the reason, Great Western Transportation can help ship construction equipment across the U.S and Canada.
We are accustomed to dealing with all of the nuances of moving heavy, large, and unusually sized equipment. Many pieces of construction equipment are hauled with a heavy haul trucking service. This involves using special trucks and trailers which match the size of the equipment being moved.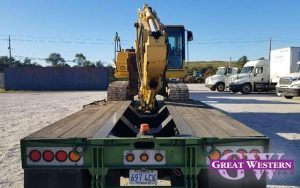 Excavators, bulldozers, graders, front loaders, and more—we can move them all. There are several ways we use our expertise to make this transport as easy as possible. One way is that we know if we need to take special routes to avoid roads and bridges that have weight limits. We will plot our course based on the weight and size of the equipment. We also know if we will need special permits from government agencies or municipalities to make the trip.
If you schedule a transport with a less experienced shipping company, you could run into problems with routes and permits. But our drivers are experts at moving challenging loads. Oversized and overweight shipments are not intimidating to our experts.
Some construction equipment doesn't require heavy haul shipping can simply be loaded onto a regular flatbed trailer for shipping. Flatbed shipments can be made as less-than-truckload (LTL) and full truckload (FTL) depending on how much construction equipment you need to move.
If you have construction equipment to transport and want to make sure it is done safely and efficiently, please contact us today at Great Western Transportation. No matter the size, weight, or shape of the shipment, we are experienced and ready to make the shipment so you are ready for that next job.