Moving heavy machinery from a particular location to either a construction or manufacturing site is a process that requires rigorous planning. The reason is that the whole procedure is quite technical and it can cause damages or injury if one fails to engage the right people, and when you do not observe the precautionary measures in place.
Here are some tips on how to move such equipment safely and successfully.
Choose The Correct Vehicle The choice of the vehicle to transport heavy machinery will determine the ease with which it will arrive at the set destination. It will also guard against possible damage to the equipment and any injury it may cause during transportation. Therefore, seek to find a vehicle that will fit the haulage and one with some provision to secure the shipment firmly.
For instance, if you are moving columns, you will require more than an average trailer. Also, extendable trailers become a necessity in this case, if you wish to have the job done to satisfaction.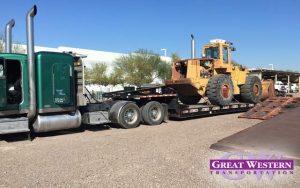 Observe The Law The laws that regulate the transportation of machinery form part of the primary elements of consideration when preparing to move such equipment. Therefore, all individuals in the transaction should acquaint themselves with all the legal requirements for this kind of transportation. That will encourage all to conform to the laws in place, thus facilitating seamless moving of the haul.
Transport companies engaging in such activities can furnish you with all the requirements of the laws relating to moving of heavy machinery. Alternatively, you can get these details from the government offices within your locality.
Secure The Cargo After selecting an appropriate vehicle to offer the service and ensuring that you meet the requirements of the law, you are now set to move the load. Securing the haul tightly before leaving the premises is critical in guarding against such incidences as detachment along the journey.
When that happens, it exposes other road users to severe danger or injury.