When it is time to transport large items of machinery or construction equipment over long distances, you can certainly find yourself standing in front of a difficult process. However, you will not have to take on this task alone. When you have the right heavy equipment transportation team on your side, the once complicated process will become a smooth and quick process. As a transportation team at Great Western Transportation, we want you to know that there are some items that you should always have moved using specialized equipment.
Excavators, Dozers, Etc.
Dozers, excavators, and other types of heavy machinery are essential for construction and other industries. While these types of machinery are great for getting the job done on an industrial site, they should not be driven on the highway. When it is time to transfer your heavy machinery equipment, you should team up with a heavy equipment transportation service so you can avoid damage to your equipment, not to mention a serious accident on the highway.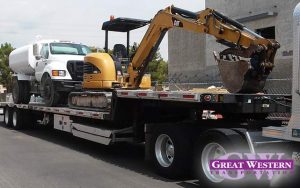 Overweight Equipment
There are various types of industrial equipment that will exceed the weight limits that have been established. Industrial equipment like steel beams will require the use of permits and transportation equipment that has enough strength to safely transport them. When you work with professionals throughout your heavy equipment transport process, you will be assured that every part of the move will be done in full accordance with all safety regulations.
Portable Buildings
Many construction sites will have portable buildings that they have turned into an office. These portable offices can be essential to the construction industry and other industries that are constantly moving from one location to the next. While transporting these buildings can prevent a variety of challenges, including logistic challenges, the right transportation service will have all the tools that are needed to safely load a portable building and transport it to the right destination.
The Great Western Transportation team provides service across the United States and Canada.