Great Western Transportation is your complete trucking service across the U.S. We offer the best available resources for Full Truckload (FTL) and Less-Than-Truckload (LTL) Trucking. We handle the movement of Dry Freight, Refrigerated Freight (chilled, frozen and temperature controlled), Flatbed Freight (standard, over-dimensional , and overweight), Heavy Haul Freight (no job is too big or too small), Power-Only Trucking (single and team driver service available), and Trade Show Trucking (complete service available).
One of the main advantages of using Great Western Transportation is the network that we have in place to give you expedited transit times at very competitive pricing.
Our Expertise in the trucking industry makes us a leader in the following areas: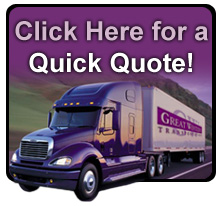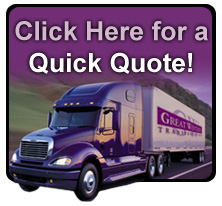 "Great Western transported my goods for a fraction of the cost."
We can supply a large variety of trailer equipment to handle any of your shipping needs:
Dry Van Trailers, Refrigerated Trailers, Stepdecks, Flatbeds, Dropdecks, Lowboys Double Dropdecks, RGNs, Extendable Flatbed and Curtain Side Trailers.
Our Staff: Our Great Western Transportation team has more than 100 years of combined trucking experience within the LTL Trucking and Full Truckload industry.
Let us prove to you that Great Western Transportation is your Premier Trucking Service.
Call us for information about our trucking services or for a rate quote.
(800) 972-8484
(925) 484-9500
Great Western Transportation 5000 Pleasanton Ave, Suite 145 Pleasanton, CA 94566
Best Trucking Freight Shipping Company California for All Commercial Hauling & Serving All U.S. Continental States
To hire the best California trucking freight company for professional and affordable hauling anywhere in the continental U.S., call our team today. We are a national truck hauling company, available to handle your loads in every state. We are very focused, nimble and smart, with decades of personalized, custom service – not cookie cutter service to our clients.  Everyday we strive to make our clients more than satisfied with their shipping with us. We excel at intelligent client service, the personal touch that turns your freight shipping into a smooth, safe journey that's profitable for you. Our California and all U.S. commercial trucking services cover almost every type of trucking you need for your jobs. Our predominate runs are in the U.S. (serving all continental states) and we also do U.S. into Canada and Canada into the U.S. hauling. Affordable freight shipping or hauling quote – call us for our personal calculation of the quote – we don't use an online calculator. We strive to give you the best price possible, and then follow up on your freight job by assigning a person to you from pickup to delivery.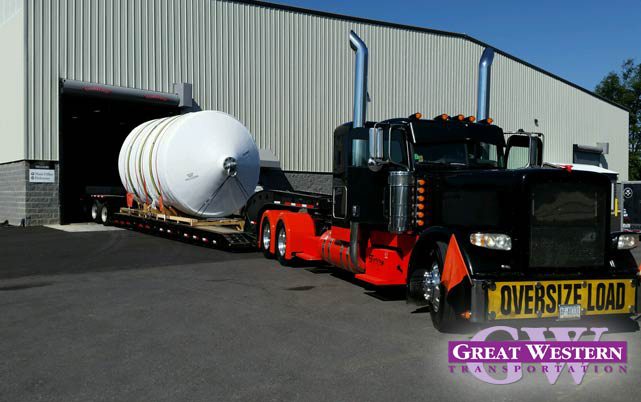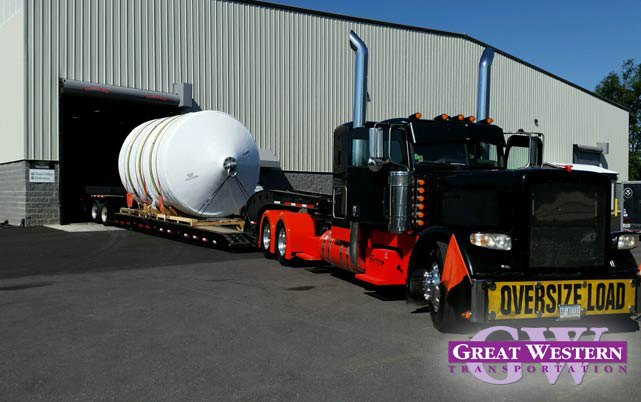 Flatbed Trucking
Flatbed trailers are the best way to transport loads that are impossible or impractical to transport in a regular enclosed dry van. Examples of flatbed freight include: large equipment, building materials and large machinery. Flatbeds allow for greater dimensional flexibility, which makes them the best and the safest choice for these types of large or heavy loads.
We can handle all of your "less than truckload" (LTL) shipments and of course full truckload shipments.
Flatbed trailers may be utilized in several ways, and can accommodate almost any type of freight. The advantage of a flatbed trailer is that it may be loaded from the sides, the top, or from behind. Being able to load from any direction makes flatbed trailers the most versatile trailer, when it comes to transporting your oversized equipment and cargo.
There are numerous options that exist for shipping flatbed suitable freight. You will have the advantage of our team's reliable experience when choosing a particular trailer type and services best suited to transport your freight.
Over sized, over dimensional or over weight shipments may be moved on a flatbed, if the shipment can't be broken into smaller parts, but freight over 8'6" W is considered over width and requires special permits. Freight over 11'6″ wide will also require a Pilot Vehicle Operator (PEVO) in most States. A PEVO is a special car with flashing safety lights and/or height poles that leads the shipment on the route from the starting point, to the destination for the safety of the public and the freight. Generally, over width shipments can only travel during daylight hours, therefore, take into account that your transit time may be effected or extended when shipping an over width shipment or over dimensional load.
RGN (Removable Gooseneck)
An RGN is used for moving heavy equipment and has a variety of other uses. The RGN is also known as a Lowboy and a Double Drop Deck with detachable deck. The name of this trailer describes its main feature: the neck of this trailer will detach allowing the front of the trailer to become a ramp that can be driven onto. Overweight loads are often transported with an RGN that has additional axles, since it has the ability to transport freight weighing over 100,000 lbs.
Step Deck
A Step Deck trailer, also known as a Single Drop Deck is very similar to a standard flatbed trailer. However, these trailers are ideal for moving equipment that would push a regular flatbed over height.
Step Deck trailers can carry freight up to 10'6" high, compared to 8'6″ for a flatbed.
Step Deck trailers are also useful with ramps to load equipment that can be driven onto the trailer.
Stretch Trailer
Flatbed and RGN Stretch are simply trailers that have the ability to transport extra long loads. These trailers have all the useful advantages of a flatbed trailer, but are more tailored to over dimensional loads.
Double Drop Trailer
A Double Drop Trailer, or Double Drop Deck, has an upper deck in the front and a deck in the rear. The middle of the trailer is often referred to as the well. These trailers are useful for transporting over height loads because they can carry freight up to 11'6″ high. They are similar to an RGN except that the front deck doesn't detach from the rest of the trailer.
Specialized Trailers like the Double Drop are used for many different types of equipment. These types of trailers are used when the standard trailer type may not be used. Many of the specialized trailers are designed for specific equipment or over weight and dimensional issues.
Side Kit Flatbed
A Side Kit Flatbed is a 45′ to 48′ flatbed with 4′ removable sides. Used extensively in the steel industry in cases where overhead cranes are used for loading.
As our trusted customer you will have access to flatbed capacity anywhere in the United States and Canada. Great Western Transportation can provide an assortment of equipment types and sizes along with any necessary components such as Conestoga covers, tarps, straps, chains or coil racks. We understand that requirements differ for each customer, so feel free to contact us regarding any questions.
We will provide you a stress free solution for basic flats, step decks, double drops, RGNs, maxis, over dimensional, overweight, expedited, and flatbed LTL or truckloads, as well as the required applicable permits and pilot car services.
Great Western Transportation will coordinate the logistics for even the most challenging shipments your company may need delivered in a safe, timely and cost competitive manner.
Heavy Haul Trucking
When a flatbed trailer is insufficient due to the shipment being too tall, wide, or heavy; a heavy haul trucking method is your only option.
Heavy haul trucking, also commonly called: superload, oversize, overweight or over dimensional, is explained below.
In the U.S. a superload is a truck tractor with an attached trailer that has an over dimensional and/or over weight object (the load) on it that exceeds the ordinary permit limits commonly associated with oversize and overweight loads. Both the size and weight of a superload are regulated by the State the load is moving in and are different depending on which State that is. An oversize load (including tractor and trailer) may exceed the standard legal dimensions of 13′ 6″ in height and 8′ 6″ in width (the length varies by state). The load must be non-reducible (cannot be reduced to legal dimensions). An overweight load must consist of a single unit to be shipped that will exceed the total legal gross weight of 80,000 lbs for the truck, trailer, and unit shipped.
Knowing how to deal with the legal considerations, permits and the technical challenges of pulling a heavy haul load is crucial to having a successful oversized load shipment.
Great Western Transportation will manage the transportation of your superload shipment from start to finish. Including obtaining special permits for each state and county requirement, pilot cars or other safety vehicles and any additional equipment required to move your heavy haul load in a safe manner.
When it comes to heavy haul trucking background, we've shipped it all. Certain loads may require multi axle trailers or custom made components, but rest assured that our vast understanding and resources in heavy haul trucking will ensure even special circumstances will be handled with the utmost level of professionalism and customer service. Above all, safety is our top priority not only for drivers, but also for the general public that may come within close proximity to heavy haul or over dimensional freight.
As a reminder, "Less Than Truckload" shipments or full truckload shipments, we will accommodate both!
Whatever you need to transport, Great Western Transportation has hauled it before and has the necessary expertise to make your freight shipment a cost effective success.
With our online freight quote system, you can quickly get a rate for any heavy haul loads (during regular business hours).
Heavy Haul – Flatbed Examples
Air Exchangers
All Yellow Iron
Boats
Boilers
Bridge Beams
Compressors
Concrete Pre-Casts
Condensers
Construction Tractor
Control Buildings
Cooling Towers
Cranes: truck, crawler lift, pedestal, tower or ring horse
Dehydration Equipment
Domes
Excavators
Generators
Grinders
Hydraulic Gantry
Injection Mold Machines
Manufactured Home
Mining Equipment
Planes
Piping
Stamping Presses
Steel Drums
Terex, Manitowoc, Mt Clemens cranes
Transformers
Turbines
Wind Energy Equipment