Most Hired Truckload and LTL Flatbed Trucking Shipments in U.S.
Our Flatbed Trucking serves the needs of customers transporting special equipment or material that create loads which are wide, over length, over-sized, overweight, or any combination thereof but can still legally move on the road. Flatbed Trucking service is ideal for construction sites or shipping points that have no available dock or require quick loading and unloading for projects on the move with time-sensitive schedules.
We are specialists in Flatbed Trucking and make sure your shipment has the right sized tarps and the proper tie downs for the job so that it will be protected and ready for use at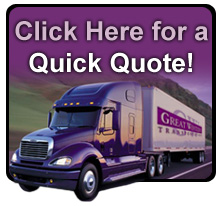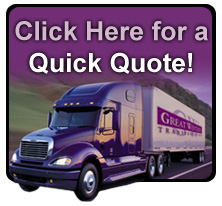 its destination. With Flatbed Trucking there are a variety of trailer types that are designed to fit the many needs required by different shipments either based on size or how they need to be loaded. In addition, we can supply team service for any of your shipments that need to deliver as soon as possible for projects with minimal slack available in their schedule.
Great Western Transportation supplies Flatbed Trucking service through out the Continental United States and from U.S. to Canada on both a Less-than-Truckload (LTL) and Full Truckload (FTL) basis.

Flatbed Trucking specifications and configurations are industry standard as illustrated in the diagram below.
Consult your Great Western Transportation representative to find out which trailer is right for your shipment.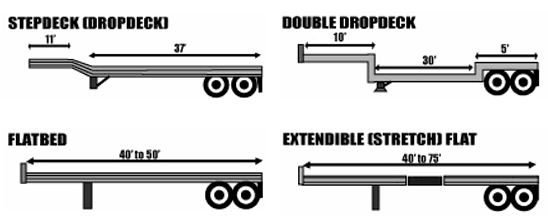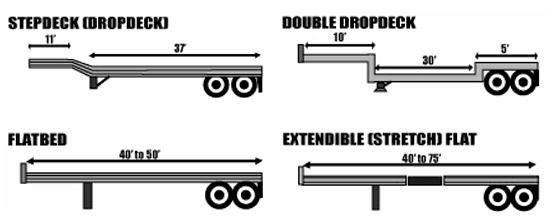 Let us prove to you that Great Western Transportation is your Premier Trucking Service.
Call us for information about our trucking services or for a rate quote.
(800) 972-8484
(925) 484-9500
Great Western Transportation 5000 Pleasanton Ave, Suite 145 Pleasanton, CA 94566
#1 Flatbed Trucking Company – Shipping Transport Carrier – Truckload to LTL – Most Hired in U.S. – Also From U.S. to Canada and Canada to U.S.
Flatbed trucking (truckload or LTL) companies provide one of the most used business to business delivery services nationwide. Trusting your loads to a flatbed hauler is a critical decision every time you need freight shipped – this could be every day to once a week or month. Our flatbed truck freight transport services are second to none, driven by our dedication to custom personalized service that is superior to all other similar companies.
We take your loads, short or long haul, in California, Texas, Illinois, New York, Florida and all the continental states.
We also haul from U.S. points to Canada delivery points and from Canada pickup to U.S. delivery. Expert, affordable, personalized flatbed services to make your shipping smooth, efficient and profitable.
Flatbed Trucking Details
Flatbed shipping is the preferred way to transport loads that are not easily transported in an enclosed dry van. Some examples of typical flatbed freight include large equipment, building materials and large machinery. Flatbeds allow for greater dimensional flexibility, which makes them the optimal and safest choice for these types of loads.
Flatbed Trailers are used in several ways and can accommodate almost any load. The advantage to a flatbed trailer is that it may be loaded from the sides, from the top or from behind. Flatbed trailers are the most versatile trailer when it comes to transporting your equipment or cargo.
Trailer Selection Simplified
Our trailer selection guide will help you to determine which trailer may be best suited to accommodate your freight. There are many different equipment and service options for shipping flatbed suitable freight. We can advise on the particular equipment and services best suited to transport your freight.
A standard flatbed is the most common type of flatbed trailer, and is 48 or 53 feet in length (with the former being the most common). Flatbeds are generally about 60 inches high, which means they can carry freight up to 8′ 6″ high and will not have any limitations due to bridges or overhead wires. A standard flatbed can transport freight that is up to 8′ 6″ wide without requiring any special permits. Wider shipments may be moved on a flatbed, but are considered over width and require special permits. Anything over 11'6″ wide will also need a Pilot/Escort Vehicle Operator (P/EVO) in most States. P/EVO is a special car with flashing lights or height poles that escorts the flatbed on the route from origin to destination for safety. Generally, over width shipments can only travel during daylight hours, thus take into account that your transit time may be effected when shipping an over width shipment on a flatbed.
Freight is allowed to overhang but the amount of overhang that is allowed on a trailer without permit varies by the State in which the load is moving through. It's generally considered that you can't combine multiple legal loads on a flatbed trailer to create one oversized load and you can't move an oversized load that could be readily broken down into multiple legal loads (exceptions do apply).
RGN (Removable Gooseneck, Lowboy)
RGN – Removable Gooseneck is used for moving heavy equipment and has a variety of other uses. The RGN is also known as a Lowboy and a Double Drop Deck with detachable deck. The name of this trailer describes its main feature. The neck of this trailer will detach allowing the front of the trailer to become a ramp. Oversized loads are often transported with an RGN, since they come in many different configurations that can accommodate the weight and size of larger loads.
Step Deck (Drop Deck)
Step Deck Trailers also known as drop deck are very similar to a standard flatbed trailer. However, these trailers are ideal for moving equipment that is above the legal height. Step Deck trailers are also useful with ramps to load equipment that can be driven onto the trailer.
Step Deck (Drop Deck) can carry freight up to 10'2" high.
Stretch Trailer
Flatbed Stretch Trailer and RGN Stretch are simply trailers that have the ability to transport extra long loads. These trailers have all the useful advantages of a flatbed trailer but are more tailored to over dimensional load.
Double Drop Trailer
Double Drop Deck has an upper deck in the front and a deck in the rear. The middle of the trailer is often referred to as the well. These trailers are useful for transporting over height loads.
Double Drop: Can carry freight up to 11'6" high
Specialized Trailers are used for many different types of equipment. These types of trailers are used when the standard trailer type may not be used. Many of the specialized trailers are designed for specific equipment or over weight and dimensional issues.
Side Kit Flatbed
A side kit is a 45′ to 48′ flatbed with 4′ removable sides. Used extensively in the steel industry in cases where overhead cranes are used for loading.
Flatbed trailers are the most versatile trailer, below is a list of cargo suitable for flatbed trailers.
Auto Parts
Backhoes
Beverages
Building Materials
CNC Machines
Construction Equipment
Conveyors
Coolers
Cranes
Crushers
Dump Trucks
Excavators
Fabricated Steel
Firetrucks
Forklifts
Generators
Lumber
Mining Equipment
Pipeline Construction and Replacement
Raw Materials
Refinery Equipment
Scaffolding
Skid Steers
Solar Panels
Steel
Tank Farm Equipment
Tile
Towers
Tractors
Tubing
Wind Blades
We provide our customers with access to flatbed capacity anywhere in the United States and Canada. We understand that requirements differ for each customer. Great Western Transportation can provide an assortment of equipment types and sizes along with any necessary components such as Conestoga covers, tarps, straps, chains or coil racks.
We will provide you a stress free solution for basic flats, step decks, double drops, RGNs, maxis, over dimensional, overweight, expedited, and flatbed LTL, as well as applicable permits and escort services.
Whatever you need to transport, Great Western Transportation has hauled it before and has the necessary expertise to make your freight shipment a cost effective success.