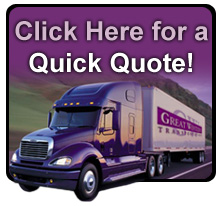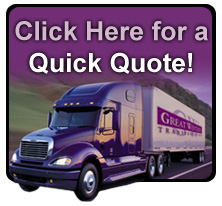 Best Heavy Haul Oversize Trucking Company for all U.S. Runs, including for all your Over-dimensional and Overweight shipments. Known as Heavy Haul Transportation, Heavy Haul Shipments, Heavy Haul Trucking or Heavy Haul Movers, these situations are the most challenging for businesses or government needs. Often a shipment is both over-dimensional as well as overweight in nature and therefore may require special routing in order to travel only on the highways that permit vehicle weights that can accommodate them in the Continental United States and Canada.
Our Great Western team has the knowledge, experience and access to required equipment that can handle your Heavy Haul Trucking needs.
Heavy Haul or Oversize Trucking frequently requires special trucks and trailers that can carry the size of what you're shipping. They may also require the purchase of special permits issued by the various governmental agencies, States, and municipalities through which your shipment will travel.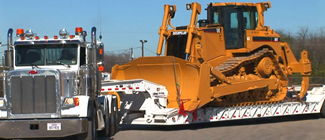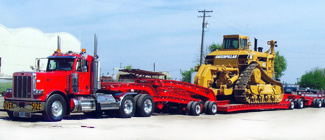 Your heavy haul load may not be machinery as pictured here, but rest assured, we have the equipment available to transport any over-dimensional and overweight shipments.

Let us prove to you that Great Western Transportation is your Premier Trucking Service.
Call us for information about our trucking services or for a rate quote.
(800) 972-8484
(925) 484-9500
Great Western Transportation 5000 Pleasanton Ave, Suite 145 Pleasanton, CA 94566
Heavy Haul Oversize Trucking Movers Company For All Special Loads and Heavy Machinery – Hired Everyday Across the Continental U.S. Also We Do Heavy Hauling From the U.S. to Canada and From Canada to the U.S.
Heavy haul trucking transportation company services in the U.S. are hired thousands of times a day, and for transport of freight from U.S. states to Canada and vice versa. It is a vital, central transportation method across the arteries that connect town to city, city to city and state to state. From local to cross-the-U.S. heavy hauling GWT is among the most trusted and hired shipping companies in the nation. Our clients know we are extraordinarily capable in all the logistics, equipment, management and rate affordability of heavy hauling. Our oversize heavy machinery mover services are well known and highly-rated across the nation and into Canada. For heavy equipment and machinery movers, business managers call us when they want the best, most reliable and responsible team.
Heavy Haul Trucking Details
When a flatbed trailer is insufficient due to the shipment being too tall, wide or heavy, a heavy haul trucking method is your only option.
Heavy haul trucking, also commonly called: superload, oversize, overweight or over dimensional, is explained below.
In the U.S. a superload is a truck tractor with an attached trailer that has an over dimensional or overweight object (the load) on it that exceeds the ordinary permit limits commonly associated with oversize or overweight loads. Both the size and weight of a superload are regulated by the State the load is moving in and is different depending on which State it is. An oversize load (including tractor and trailer) may exceed the standard legal dimensions of 13'6″ in height and 8'6″ in width (the length varies by State). The load must be non-reducible (cannot be reduced to legal dimensions). An overweight load must consist of a single unit to be shipped that will exceed the total legal gross weight of 80,000 lbs for the truck, trailer and unit shipped.
Heavy Haul Equipment
Equipment that may be required for heavy haul:
Double Drops
Extendable Trailers
Removable Goosenecks (RGN)
Stretch Trailers
Trailers may be 5, 6, 7, 9, 10, 13 and 20 axle
Legal Requirements for Oversize, Overweight and Superloads:
Knowing how to deal with the legal considerations, permits and the technical challenges of pulling a heavy haul load is crucial to having a successful oversized load shipment.
States require that certain oversize loads have certified Pilot/Escort Vehicle Operators (P/EVO) to protect the motoring public and the oversize load. The purpose of a P/EVO is to safely escort a superload from its beginning location to its final destination without damaging the load, motorists, highways, roads, bridges, control devices, signs, wires, overhanging objects or property.
Great Western Transportation will manage the transportation of your superload shipment from start to finish, including obtaining special permits for each state – and county permits as needed, pilot cars or other escort vehicles and any additional equipment required to move your heavy haul load in a safe manner.
Great Western Transportation will arrange the logistics for even the most challenging shipments your company may need delivered in a safe, timely and cost competitive manner.
Below is a list of common heavy haul examples:
Air Exchangers
All Yellow Iron
Boats
Boilers
Bridge Beams
Compressors
Concrete Pre-Casts
Condensers
Construction Tractor
Control Buildings
Cooling Towers
Cranes: truck, crawler lift, pedestal, tower or ring horse
Dehydration Equipment
Domes
Excavators
Generators
Grinders
Hydraulic Gantry
Injection Mold Machines
Manufactured Home
Mining Equipment
Planes
Piping
Stamping Presses
Steel Drums
Terex, Manitowoc, Mt Clemens cranes
Transformers
Turbines
Wind Energy Equipment
If your heavy haul item is not listed in the examples above please contact us, we will let you know if we can arrange shipment for your superload or oversize item.When it comes to heavy haul trucking background, we've shipped it all. Certain loads may require multi axle trailers or custom made components, but rest assured that our vast understanding and resources in heavy haul trucking will ensure even special circumstances will be handled with the utmost level of professionalism and customer service. Above all, safety is our top priority not only for drivers, but also for the general public that may come within close proximity to heavy haul or over dimensional freight.