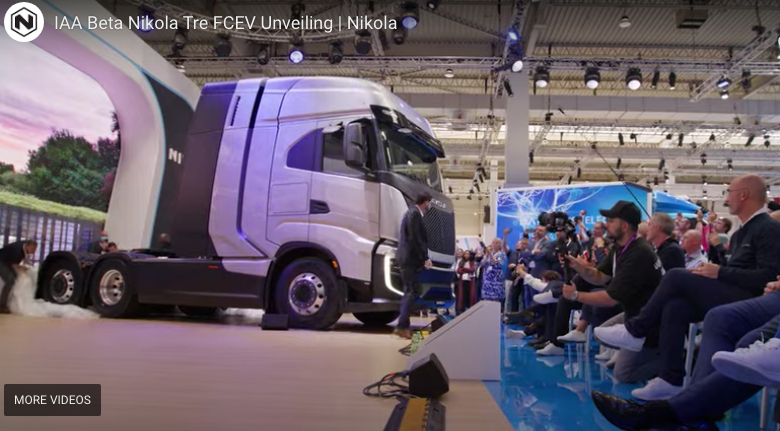 As part of our Great Western Transportation philosophy and best-practices we keep a close eye on all the trends in the big rig trucking industry. One of the major trends is moving big rig trucks to zero emission, to being climate friendly deliverers of millions of tons of vital goods across the U.S. These trucks range from battery powered to hydrogen-fuel-cell powered. There will be a time in the future where most trucks on the road will be zero emission.
This past March, 2023, in Stockton, CA, the truck manufacturer and energy company Nikola Motor presented its new one-hundred percent zero emission semi-trucks to truck fleet company representatives.  The sleek, futuristic black-and-white class-8 trucks wowed the audience of truck buyers. One of the trucks was powered by a hydrogen fuel cell that could haul for 500 miles. The other was battery powered with nine battery packs punching through 733 kilowatt hours of electricity for a range of 330 miles. Both trucks had the same electric motor.
Damon Owens, head of truck marketing at Nikola Motors, said, "Our battery electric truck as I mentioned is in production and ready for delivery now. Our fuel cell truck will be available for delivery at a later part of this year … it goes into production in the later part of this year."
The trucks also have regenerative braking to recycle electric power back to the battery as the truck brakes.
Show attendee Dave Dein, co-founder of Next Generation in Trucking Association, said after driving the truck: "It's very comfortable, it's very quiet … love it. It's really designed for the driver. Excellent turning radius and visibility."