Type of Equipment
Construction companies are often going to need to ship many different types of construction equipment, including bulldozers and excavators. The tall arm of excavators gives them a very distinctive shape. The large metallic blade of a bulldozer, which is used to move debris and almost everything else, gives the device distinctive components that may be more prone to damage than others.
The exact format of a piece of construction equipment might change the manner in which the device is handled and secured during the transportation process. However, it might not make as much of a difference as some people believe.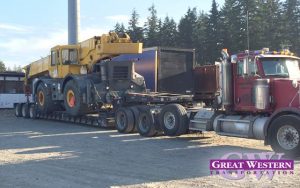 Uniformity 
Despite the vast differences between construction equipment types, some parts of shipping construction equipment will still remain consistent. The equipment will get set into position and secured. The professionals involved will check to make sure that there aren't any additional issues, and then the shipping process will continue.
Some of the difficulties and opportunities that present themselves when shipping construction equipment will more or less come into play when shipping heavy devices in general. This should make things easier for the people who are used to shipments like these.
Security 
Most companies will place a strong emphasis on security when it comes to construction equipment, which is very expensive. However, there are some people who might want to take additional precautions of their own, given the value of construction equipment.
Putting small and inexpensive GPS trackers on the equipment can give the owners some peace of mind with regards to what is going on with their construction devices. However, companies like Great Western Transportation have high standards for security one way or another.