In addition to the prices and quality of your products, customers judge you on the quality of your service. One of these is excellent customer service. Another is reliable customer fulfillment. Poor customer fulfillment can cause first time customers to make their future purchases elsewhere, and cause repeat customers to reconsider their loyalty to your brand. Losing repeat customers means you've lost their future patronage, which can add up to a lot of money.
Consumer Customer Perceptions
Customer fulfillment doesn't end for you once the dry freight truck leaves your shipping dock. It ends when the customer receives the goods intact and on time. Although late deliveries or damaged goods caused by a trucker aren't technically your fault, in the customer's mind, it is. All they care about is they ordered the products from your business and it arrived late or damaged. Ultimately, it is your responsibility to make good choices about everything that affects your business, including your choice of dry freight trucking.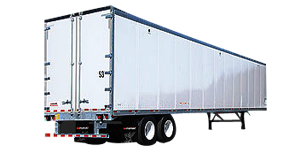 Business Customer Perceptions
If your customers are other businesses, then you are part of their supply chain. Their well-being and possibly survival, depends on your reliability. Delayed or damaged shipments to them, delays restocking of their inventories. This may cause them to run out of stock, which delays shipment to their customers. They in turn, experience lost business because of customer fulfillment issues.
If this happens too many times, they will protect their business by finding an alternative supplier. If your delivery issues are caused by an unreliable dry freight trucking service, you need to replace them before your customers replace you.
The cliché that you're only as strong as your weakest link is true. If your inventory, warehouse, and shipping management are superb, none of that matters if you're using a sub-par dry freight trucking service. If your current freight service isn't working out for you, contact us.