Shipping construction equipment requires careful attention and specific expertise. You cannot connect the construction equipment to any vehicle and transport it from Point A to Point B. While transporting construction equipment, you will come across different roads that have their own traffic laws, rules, and regulations that will need to be followed.
If you need to transport a load that is wide and/or heavy, you may have to find another route. Due to the various circumstances and requirements, transporting construction equipment or any other type of heavy equipment may be a long ride. Transporting construction equipment will take a significant amount of effort, and it is important to ensure everything is in order.
If you need to ship construction equipment, we encourage you to find an experienced transportation service that will ensure your construction equipment reaches its destination. Shipping this type of equipment will require the skills and expertise that a transportation service will have, especially when it comes to route planning, licensing, insurance, loading, unloading, etc.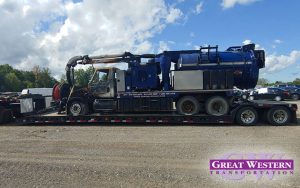 The majority of construction equipment will need to be transported via the flatbed trucking method. There has to be a significant amount of planning and thoughtful logistics that will go into successfully transporting construction equipment. You can make things easier on yourself by partnering with a transportation service like Great Western Transportation to handle the shipping of your construction equipment.
We understand how overwhelming the shipping process can be when it comes to heavy construction equipment. This type of equipment can also very dangerous to ship if you do not have a solid plan in place. Excavators, bulldozers, backhoes, tractors, etc. are all used in construction, and they will all need to be carefully shipped.
What type of construction equipment do you need to be shipped to or from a job site? Great Western Transportation is a service that can fulfill your needs.