Some construction jobs require you to move heavy equipment from one place to another. And unfortunately, you can't just drive an excavator down Main Street at all hours of the day. So, you'll need a hauling service to get your equipment where it needs to go.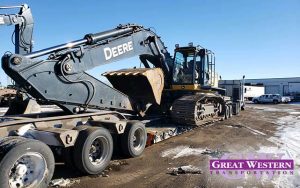 Hauling construction equipment requires a lot of proper planning ahead of time. It's not as simple as driving a bulldozer up a ramp, throwing a few chains around it, and going about your business. Some of your necessary preparations include:
Know how to measure the height, width, and weight of your equipment. This is important to know in order to use the correct hauling method and equipment.
Be familiar with laws governing interstate travel for oversized loads. Some construction equipment is heavy enough that special precautions have to be taken in regard to where you travel with it in order to avoid damage to roads. Certain states require the use of an escort vehicle or 'pilot car' to accompany loads above a specific size or weight. Also be aware that some regulations state you can only haul at certain times of the day, so make sure your schedule lines up with these regulations.
Plan your route ahead of time, and go through an actual on-the-road run-through of your route. There are dozens of stories and videos showing the worst-case-scenarios of a truck hauling a tall load under a low overpass, or a truck stalling out on a steep hill and losing control or flipping over. The fewer stops, turns, low bridges, or difficult terrain, the better.
Acquire any necessary permits for shipping your equipment. This is especially important if you're shipping internationally.
Most construction equipment needs to be hauled on open-air flatbed trailers. There are a wide variety of these trailers available for hauling different sizes and weights. So, be sure to familiarize yourself with the types of trailers used for hauling heavy loads and construction equipment.
Hauling construction equipment is a big and sometimes complex job, so finding a company to help you with your heavy hauling needs is extremely important. Fortunately, the professionals at Great Western Transportation are here with the knowledge and access to the right equipment to get the job done. If you have any questions or would like a quote, contact us today.