There is a long list of factors you will need to consider when hiring a professional transportation service for your flatbed trucking needs. One of the most important things you will need to do is identify at least three transportation services that can fulfill your flatbed trucking needs.
When you have at least three transportation services to choose from, you will have the opportunity to make the comparisons you need as far as the type of services, the areas of specialization, the years of experience, pricing, and more. It is important to perform thorough research before making a final decision. When you conduct your own research and you do not base your decision solely on reviews and feedback, you will be able to compare the aspects that are most important.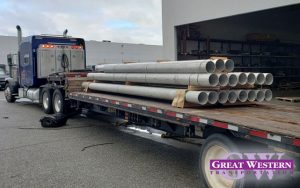 When you do not conduct the proper research, it can be very easy for you to overlook some of the most important factors that could cost you a significant amount of money. Failing to properly research multiple transportation services before making a decision, you could put your business at risk of losing your customers and possibly hurting your current reputation.
We encourage you to find transportation services that have a mission and objectives that align with the goals of your business. You will have different transportation needs as the year goes on, and it is important to choose a transportation service that has the experience and the expertise to fulfill your needs.
While reviews, feedback, and recommendations can be accepted, you should never base your decision on only the information that has been provided to you from others. Before you choose a transportation service to fulfill your flatbed trucking needs, we encourage you to spend some time asking the proper questions and verifying that the transportation service will be able to meet your needs.
If you are looking for a transportation service to fulfill your needs, contact Great Western Transportation today.