What factors will make a shipment oversized or heavy haul? A load that needs to be transported will be considered a heavy haul if it goes beyond the state's legal dimensions limit. The overall length requirements will vary by state. However, a load that goes beyond the 8'6 (2.59 meters)" will require a permit. Permits can be acquired at the state level.
One of the key differences between regular shipments and heavy haul shipments is that the heavy haul shipments will require the permit before the transport process can begin. There are different types of permits that can be acquired. Acquiring specialized equipment will be dependent on the height, width, weight, and length of the equipment.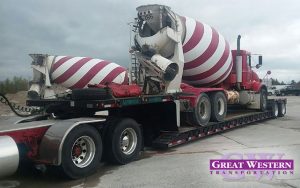 Freight that generally qualifies as heavy haul will include the following:
Industrial equipment
Building elements
Large shipping containers
Heavy machinery
Pre-built homes
Heavy haul freight will generally cost a significant amount more for a variety of reasons. One of the main reasons that heavy haul freight cost more than other freight is because of the need for permits. Sometimes the permits can be costly depending on how oversized the load is, and this could result in additional fees throughout the remainder of the process. Also, it is important to remember that a permit will need to be purchased for each state that the heavy haul freight will have to go through before it reaches its final destination.
We understand it can be difficult to sort through the logistics regarding heavy haul trucking, especially when permits and state limitations are involved. When a load has to go through more than one state, this can definitely complicate the process and make things more confusing. Transportation services that specialize in heavy haul trucking, flatbed trucking, and other overweight shipments will have the skills and expertise you need to help you determine the best course of action.