As you think of transporting heavy machinery, the safety of your equipment should always be kept in mind. A trustworthy professional will come in handy to ensure that the chances of losing or damaging your equipment are kept very low. Construction jobs require diverse overweight shipments that have unique transportation needs.  Professional transporting companies work with two things in mind – deliver your heavy machinery safely and maintain safety regulations while at it.
Transporting Heavy Machinery
Transportation processes often begin the preparation of cargo. For your heavy machinery, the company will need proper documentation. They will then prepare a suitable superload, a specialized truck for transport. The superload contains an overweight object (the cargo) that exceeds the standard permit limit. Different states have different regulations for the size and weight of the superload.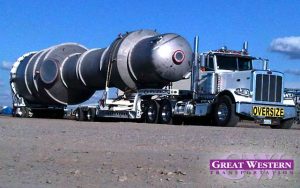 A successful oversized load shipment also depends on handling the legal considerations appropriately. Escort Vehicle Operators to safely escort the super load are required for specific oversize loads.
Opt for a company that is well-versed with handling heavy machinery to guarantee the safety of your cargo. Do they have specialized freight cars? Do their drivers have special driving permits? What is their track record in the transport industry? Ask yourself all these questions before making up your mind.
Why Choose Great Western Transportation
Great Western Transportation is a reliable partner for all your heavy machinery transport expeditions. Our top-notch drivers will take cake care of your large machinery and ensure that they are delivered in good time. We are well-equipped to deliver any over-dimensional and overweight machinery.
We specialize in:
Heavy haul equipment
Construction machinery
Specialized equipment
Agricultural machinery
Great Western takes pride in a client base that keeps coming knocking on our doors thanks to our efficient logistics services. Contact us and get your construction project up and running once we get your heavy machinery to you. We will manage the whole shipment process efficiently and take care of all the legal issues. You can count on our 100+ years of combined experience. Contact us for more info.