From moving heavy equipment to transporting boats, manufactured homes, and other large items which are too high, wide, or heavy for flatbed truck delivery, businesses are often left to deal with not only finding the right equipment to safely, and legally transport items which exceed specified dimensions and weights, but they must also obtain permits, plan out routes, and hire escorts, all while trying to take care of the daily tasks of their businesses. For the average business, Heavy Haul Trucking can be a costly, time-consuming enterprise.
Fortunately for the business owner, there's Great Western Transportation.  At Great Western Transportation, they take care of all of the logistical tasks, so that business owners and customers alike can rest easy knowing that their products and assets are being delivered by experienced equipment operators.  Not only does Great Western Transportation ensure that the right equipment is used for optimal transport, but they also take care of all of the legal chores such as obtaining permits, escorts, and route surveys, freeing up the business owner to focus on their projects and customers instead of the logistical details.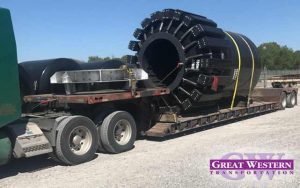 If a piece of equipment is over 13'6″ high, and/or 8'6″ wide, special permits need to be obtained by each state it goes through. However, if the load fits within these dimensions, but exceeds 80,000 lbs, (which includes the shipment, and the equipment used for transport) permits are also required. Great Western's experience in the field of obtaining permits saves the business owner the headache of going through the application process to obtain permits in one or multiple states.
Two other services offered by Great Western Transport for Heavy Haul Trucking are their route surveying and escort services.  No one wants a house or piece of equipment damaged en route because no one took the time to make sure that it could fit through certain tunnels and other structures.  Because Great Western Transport takes the time to carefully examine the routes the equipment will take, businesses and customers can fully expect their assets to arrive at their destination intact.  Also, with their escort option in which an escort remains with the load from the moment the load is on the road until it safely reaches its destination, motorists are given ample warning of the large load coming their way, which ensures safety for motorist and transport alike.
So if you are a business owner who needs to move some heavy equipment, why stress about it when Great Western Transport can do it for you?
See Heavy Haul Trucking to find out how Great Western Transport can help you with your Heavy Hauling Needs.