A construction project is usually a big job with a lot of heavy equipment being used. The type of equipment being used for your construction job will often times have a tremendous impact on the success of your project. Without the proper construction equipment, project delays and loss of revenue are inevitable. Learn how Great Western Transportation (GWT) can safely and effectively transport your construction equipment to and from your project.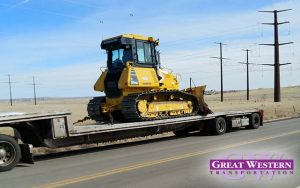 How GWT Will Transport Your Construction Equipment
Great Western Transportation understands the need to ship heavy equipment according to industry standards, how to get it their intact, and on time. In fact, we understand that construction equipment is heavy and large by nature. Our professionals are prepared to used the most common form of construction equipment transport including roll-on and roll-off (RO-RO). Great Western Transportation also offers:
step deck
double drop deck
flat-bed
However, when you have specialized transport needs, we're proud to serve our clients with the highest standard of customer service excellence. We have the proper flatbed truck for any job including LTL flatbeds and other trailer equipment to make for a smooth haul of your construction equipment. GWT engages in partial construction equipment transport as part of our specialized shipping. This means, we're prepared to handle your construction equipment transport at any size.
Why Great Western Transportation Continues To Be The Top Construction Equipment Transport Professionals
To Great Western Transportation, carrying up to 46,000 pounds is no problem. It's valuable to note that we have experience with diverse types of shipping and hauling projects. GWT gets your equipment to your project site stress free and in line with your budget. With different requirements for each customer, we have a strong knowledge of heavy equipment compliance laws. When you're trying to meet a deadline on a construction project, you're invited to contact us at Great Western Transportation for your construction equipment transport needs.