Buying, shipping, and delivery of construction equipment may be quite a task. Some construction equipment being referred to are; dozers, excavators, rock trucks, road graders among other heavy-duty equipment. However, there are a few tips that will become very helpful in shipment.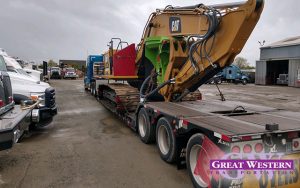 Things To Note Before Shipping Construction Equipment
Documents Needed
Remember that the process of shipping should be done legally, in that case, several documents should be prepared by the shippers that give them legal permission from the attorney to carry out the shipment process. A bill of landing should also be there to permit you to receive goods on land. You should also have a certificate that proves ownership of the goods.
Methods of Shipping Equipment
The most popular is the roll-on/roll-off method where equipment is towed into and out of the transportation vessel. Similarly, ensure that you are well conversant with the tips for shipping equipment as well as what to expect.
Bulldozers
It is easier to ship bulldozers in parts because they are bulky. Most parts that are dismantled are the blade and the ripper to make shipping easier. This is also cost-effective and also reduces the weight of the load.
Excavators
They come in many shapes and sizes but the most effective method is using flatbed trucks. Knowing the dimensions of the excavator you are shipping is an important tip to easily find a suitable flatbed truck.
Road grader
Road graders are usually very large and bulky because they are used to dispose of large sums of material. Such a truck requires a lowboy truck that can carry this equipment efficiently.
Rock trucks
Since these trucks also carry large sums of heavy material, they will require haulers to transport them with ease.
Following the tips given, shipping of construction equipment should not be as hard as you thought!