Transporting heavy machinery requires the help of a professional to protect your equipment and to protect you from the liability of losing control of your equipment during transport. Oversize and overweight shipments are very common in the construction and manufacturing industry. Transportation efforts for heavy machinery have different needs. More importantly, heavy transport require unique permits and specified transporting criteria. The goal of a professional transporting company is keeping you and your equipment safe and under the required safety regulations.
What Is The Process Of Transporting Heavy Machinery
Heavy machinery must first be prepared for transport. Companies are expected to prepare for the transport process with the proper documentation and by preparing the cargo. The United States classifies a superload as a truck tractor with an attached trailer that includes an overweight or over dimensional load. Superstructures that are particularly heavy require the most attention for safe transport. It's very important that the company you choose have specific knowledge of the heavy transport industry. In fact, heavy transport may also require oversize cars and specialized freight carriers that require a unique driving permit. There are numerous options for heavy machinery transportation.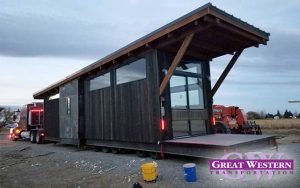 Why Customers Choose Great Western Transportation
Great Western Transportation takes pride in transporting your heavy machinery across town or across the country. When you're transporting monstrous machinery down the road, you expect a professional transportation company that you can trust. We specialize in quality drivers that are able to get your machinery from point A to point B hassle-free.
Our specialty in transporting includes:
agricultural machinery
construction machinery
over dimensional machinery
heavy haul equipment
specialized equipment
Great Western Transport is your complete trucking service. GW Trans will coordinate the logistics for the most complex shipment that your company may need delivered. You're encouraged to contact us at Great Western Transportation for cost competitive, safe, and the timely transport of your heavy machinery and equipment today.