Shipping construction equipment requires unique preparation for your transport to be a success. When you hire a professional to transport your construction equipment, you expect them to have expertise in oversize machinery and equipment. More importantly, getting your equipment and machinery to your job site can make all the difference in a successful construction project. Safely transporting your construction equipment can also reduce your chances of costly liabilities due to damaged equipment, injuries, or accidents. GW Trans discusses the basics of transporting construction equipment below.
How To Successfully Transport Your Construction Equipment
Measurements. The first step for preparing your construction equipment is getting your exact measurements. Measuring your construction equipment will help you list it accurately, acquire the proper permits, and help you determine what type of transportation trailer is needed. The experts at GW Trans know exactly how to measure your equipment according to the exact industry standards.
Choose Your Trailer Type. Your width, height, and length will determine what size trailer is needed to transport your construction equipment. Manufacturer specifications aren't enough to determine the actual measurements of your construction equipment. To clarify what type of trailer your construction equipment will need, exact dimensions are required. Tip: Your trailer can be too big, but it can never be too small to transportation your construction equipment.
Preparing your equipment for transport. Preparing your equipment is the most important part of the transporting construction equipment. To avoid liability of debris flying off your cargo or extra weight, you should always wash your construction equipment before transporting it to another location. Other important factors include a secure leveling spot, posing the machine for travel, and covering the stacks.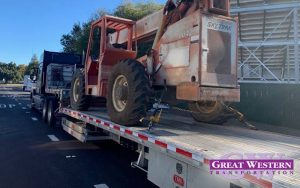 Common Construction Equipment:
excavators
tractors
bulldozers
cranes
loaders
Great Western Transportation are the experts in transporting construction equipment. We understand that shipping construction equipment can be challenging because of the weight of the equipment. GW Trans takes extra care with your bulky and heavy equipment. We also have experience in hauling heavy equipment that you've bought at an auction. Transporting heavy equipment can vary substantially and GW Trans ensures that everyone involved is well informed. Our team of professionals are comprised of single and team drivers. You're invited to contact us at Great Western Transportation for expedited transit times at competitive prices for your construction, freight, oversize, and over-dimensional transportation needs. With over 100+ years combined experience, let us prove we're your premiere trucking service.