New wind farms are sweeping across America and providing renewable energy to millions of people. But what many don't know is how those gigantic wind turbines get moved from the factory to the wind farm. This is where transportation services like Great Western Transportation comes in. We offer companies the ability to move their heaviest loads, including the turbines and other equipment necessary for wind farms, across the country to their destination.
Wind farms can be built in many areas of the country but the plains of the midwest are a very popular region to have them in. Getting the necessary equipment and turbines moved from wherever they're built to its destination at the wind farm is a very tough task that Great Western Transportation is determined to accomplish for its customers.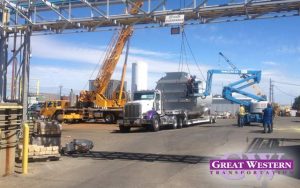 There are many things that customers looking to move heavy things across the country must know about this task and why Great Western Transportation is capable of doing the job. First and foremost is the fact that heavy haul trucking moves loads that are commonly called oversized or overweight. This is a legal challenge as states have different regulations for it and permits are required on a state by state basis.
Special routes must be planned for the haul as the infrastructure the haul uses must be able to handle the weight of the load. Other regulatory requirements include a need for an escort vehicle to ensure the safety of other commuters, the load itself, and the roads themselves. Great Western Transportation is one of the country's leaders at hauling heavy loads across the continental United States and Canada and we will do all the necessary work to complete the haul. We are also proud to take part in building the renewable energy infrastructure of the country.
If you're looking to haul wind turbines, other wind energy equipment, or other heavy loads across the country, please contact Great Western Transportation today.