Solar energy is all the rage when it comes to home utilities. People from across the continental United States and Canada are looking to install solar panels on their roofs and elsewhere on their household. So whether you're a solar power company in New York or Vancouver, you might be wondering how you're going to haul solar panels from where they're made all the way to where you need to install them. The answer is Great Western Transportation.
When it comes to hauling solar panels, we know how to do it right. With our Flatbed Trucking service, our drivers are able to safely haul solar panels from wherever they're made in the U.S. to anywhere else in the continental United States or Canada that they're needed in. Our flatbed trailers are the best option when it comes to hauling something as delicate as solar panels, and they're also the best way to move a lot of them too.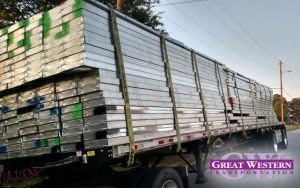 By choosing Great Western Transportation, you're also choosing safety and security in our experience and knowledge. Our drivers and staff will secure all the solar panels onto the flatbed trailers with the necessary straps and other equipment to ensure a safe journey. Depending on the type of flatbed trailer that you choose, the haul may be considered an oversized load, and our veteran drivers can deal with that too.
In such an event, our drivers will have all the necessary permits to haul the oversized load and we will even provide the escort vehicle and driver that's legally required in some states and they will work to further ensure that the journey goes smoothly. So by choosing Great Western Transportation when it comes to hauling your solar panels, you're choosing our guarantee that your solar panels will be at its destination, safe and sound.
If you have any questions about our Flatbed Trucking service or if you want to get a quote now, please contact us!