Heavy machinery like dump trucks, excavators, tractors, and more are essential for any building or construction work. As important as the heavy machinery is to complete a job, it is also important to ensure the heavy machinery is transported and delivered on time. However, getting the machinery to Point B from Point A can be a challenging process.
Some companies will have their own vehicles that they use for shipping. However, other businesses will rely on a transportation service to move heavy machinery. Unfortunately, not everyone is aware of what the shipping process consists of. Many businesses are under the impression that it is not safe to transport heavy machinery.
We understand that you may be worried about the safety of your heavy machinery when it needs to be transported. After all, the heavy machinery you need to transport can be quite expensive. However, transportation services that are used to move heavy machinery have the skills and the knowledge that is needed to safely move vehicles.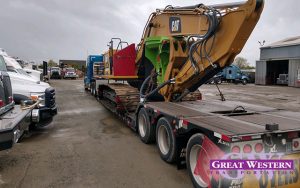 If you are worried about how reliable a transportation service may be, we encourage you to ask questions about their shipping process. A good transportation service will not be afraid to answer any questions you may have.
Many businesses also try to avoid using transportation services because of the fear that the pricing will be too high or unpredictable. The transportation service you choose should be able to give you a proper quote at the beginning of the process.
While it may seem like choosing the transportation service will be the best route to take, it is one of the biggest mistakes many businesses make. Some transportation services may offer the lowest price, but they may not meet your specific needs when it comes to transporting your heavy equipment to a location during a specific delivery window.
It is important to choose a transportation service that can fulfill your needs and has a pricing option that fits your budget. Great Western Transportation has the ability to safely transport your heavy equipment during your specified delivery window. We have the skills and the experience it takes to have a successful transport.
Please do not hesitate to reach out to us for a quote or with any shipping questions or concerns you may have.