Are you preparing to ship heavy equipment or heavy machinery from various locations across the United States in 2020? If you are, a transportation service should be part of your foundation. Across the United States, you will find a network of reliable and effective heavy machinery and heavy equipment transportation services who will ensure the job is completed the right way.
Heavy machinery and heavy equipment transportation services will give you every opportunity to fulfill your shipments in a quick and safe manner. It will not matter how complex a load may be, a transportation service will be able to handle the job. Some of the heavy machinery that can be transported using a transportation service includes the following:
cranes
drills
power belts
engines for automotive vehicles
farm equipment
tractors
forklifts
If you found that shipping and transporting heavy machinery or equipment was difficult for you in 2019, you can find greater success with a transportation service. With the system that a transportation service uses, shipping heavy machinery will be a straightforward and flawless process. Before anything can be transported, it is important that you determine what type of trailer will be used to transport the equipment.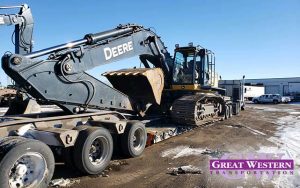 When you have an idea of what type of trailer will be a better fit for the equipment you need to transport, Sometimes parts of the machinery will need to be removed in order for equipment to be transported safely. When you have an idea of what type of trailer will need to be used, you will be able to start the process of preparing your heavy machinery or equipment to be transported.
Pieces of the equipment will need to be positioned properly so the length of height will not be negatively impacted. If there is anything on the equipment or machinery that will make you oversized, those pieces and attachments should be removed. In many states, it is against the law the ship machinery with specific pieces attached.
If the heavy machinery you want to transport can be classified as an oversized load, you will need to use lights or signs to indicate the oversized load. Your transportation service provider will be able to assist you in determining the rules for the states your machinery will pass through. When the time is right for you to find a reliable transportation service, just contact Great Western Transportation and we will help you get started.