If you have any involvement with the shipment of construction equipment or any other heavy equipment, the chances are high that you have a significant amount of money invested in your ventures. It does not matter what type of equipment you need to be transported or what they will be used for, you want to make sure the shipment arrives on time and in great condition.
When you partner with a transportation service that has a full understanding of how to address and fulfill your needs, you will discover that you will have a better chance of achieving the type of successful outcomes you aim for each time you ship your equipment.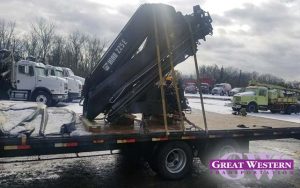 The Size of Your Equipment
When selecting a transportation provider for construction equipment shipping, we encourage you to know all the specifications of the construction equipment you need to transport. You will need to know all the specifications of your equipment, such as the size and weight of the equipment. When you are able to determine the specifics of the equipment, you will be able to address some of the following concerns:
Will any parts need to be taken apart before the equipment can be safely transported?
Will it be cost-effective to take apart some of the components?
Will you need to remove any outlets, batteries, etc.?
The Shipping Process
After you have addressed some of your main questions, it will be important to communicate with the transportation provider to determine if the provider knows how to transport larger items. Some of the questions you will need to have answered include the following:
What transportation method will be used to ship your equipment?
Will your shipping equipment be able to withstand any hazards that may occur on the roads?
Will your equipment need special coverings to protect it during the transport?
Some construction equipment requires permits before they can be shipped. This is another reason why it is important to speak to the transportation provider ahead of time so you will have everything you need about the shipping process. It is important to work with the transportation provider ahead of time so the permits can be secured and so there will be no surprise delays or complications.
To ensure that your construction equipment is transported safely at all times, we encourage you to partner with transportation providers that specialize in the shipment of construction equipment.