Construction is a vital part of the world economy and infrastructure. If you're a member of this prestigious group of builders, especially in a company on the smaller side, it can often feel like you're fighting an uphill battle. Fighting for contracts, managing your supplies, and getting things done on time and under budget can be a real hassle. However, one problem that stands above all else is the issue of equipment — in particular, how you get it from place to place.
Transportation is often an issue when you work in construction given how large everything you're moving tends to be. Don't let this stop you, though, especially when you have a group like Great Western Transportation by your side. Great Western Transportation is a service you can hire to move things from place to place. In your case, it would be all that construction equipment you can't haul to the site on your own.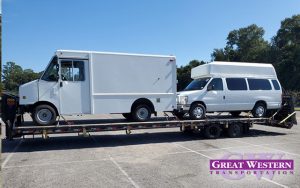 Rather than try to organize a bunch of people to drive everything down the road (assuming you even could) or fruitlessly attempt to tow things on the back of a truck, let the pros handle it for you. Great Western Transportation lives and breathes transportation and is experienced in moving equipment of all kinds. Safety, speed, and reliability are all a focus for the company, ensuring you get your equipment on-site ahead of schedule and without a scratch. They'll probably do a better job than even you could given their more than 100 years of combined trucking experience.
The next time you're in need of equipment transport for your job, look to Great Western Transportation. They'll get the job done right just like you and your team will. Call or email today to get a quote or to set up a job. You won't be disappointed.