If you're in an industry that involves moving large amounts of equipment or supplies from place to place, you've already come to the realization that things aren't always transported in evenly-sized boxes. The things you have to haul are often irregular, misshapen, and have unevenly distributed weight. This can cause all sorts of problems when it comes to getting them place to place, making for a frustrating and potentially quite costly experience.
Hauling heavy or oversized loads on your own can be a precarious task. If this isn't your specialty, why not call in someone who does this for a living? In particular, why not get Great Western Transportation on your side for your transportation needs?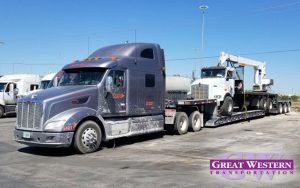 With over 100 years of combined experience, the drivers at Great Western Transportation have dealt with hauling all sorts of different things. Construction supplies, heavy equipment, and plenty more are all just a day at the beach for our crew. This also extends to your irregular and heavy loads, our team having a great deal of experience in safely and efficiently securing things like this in a way that means there's no danger of anything sliding off or otherwise disrupting the drive.
In addition to the transportation services we provide, we can also perform route surveys, escorts, and secure permits in the service of making the job as smooth and safe as possible. Why waste your time doing all of this when you could just get the experts to do it for you?
There's a lot more we could discuss here, but time is money. If you're in need of transport for your oversized or overweight shipments, contact Great Western Transportation to get your things where they need to go with as little hassle as possible. You'll thank yourself when you realize just how easy the process was and how much work you got done by letting us take care of it.