The driver shortage we were already experiencing before 2020 is now worse than expected. As our country slowly emerges from the pandemic lockdown, people are heading back to work, but not necessarily truck drivers.
If your company is experiencing transport roadblocks, Great Western Transportation (GW) can get your heavy haul or trucking loads expedited. When you don't want to worry about the transport and the special permitting requirements, our expert team of trucking professionals takes care of the details.
The Benefits You Get Partnering with Great Western Transportation
You can take the stress of heavy haul trucking off of your shoulders and put it on ours.
-You Don't Have to Worry about Trucking Equipment and Preventive Maintenance
When you partner with us, you don't have to worry about buying and maintaining the trucks and trailers. Preventive maintenance is a vital factor in reducing breakdowns and accidents along highways and roads. Partnering with us, you have superload equipment when you need it.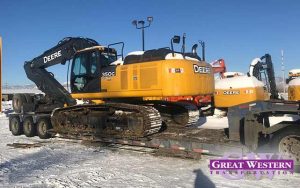 -You Don't have to Worry about the Insurance
Insuring trucking equipment can be an expense that can eat up profits on the bottom line. Not to mention insuring drivers and the load are additional expenses.
-You Don't Have to Handle Permitting and Pilot/Escort
Every state has its heavy haul requirements. Certain heavy loads may require a Pilot/Escort Vehicle Operator(s) to travel with the load to alert and protect other drivers and also protect the load. At Great Western Transportation, we have the knowledge how to work with every state.
At Great Western Transportation, we have the experts with industry experience, and we have the equipment to handle all of our customers' heavy haul trucking needs. Serving the United States and Canada, we make shipping hassle-free, we offer competitive rates, and we're excited to be your shipping partner, no matter the load size.