As someone who's responsible for shipping and logistics, you are aware of the long list of factors that can have a profound impact on your ability to transport goods from one location to the next. For example, you are aware that the winter months can impact your schedule if you are delivering goods to the northern states.
Did you know some factors can also have a major impact on your deliveries during the spring months? With the arrival of Spring, frost laws or seasonal weight restrictions will mandate the amount of load that trucks can carry and the speed at which the vehicles can travel. The restrictions will vary between each state, and the laws and restrictions can be impacted even if the cargo weight is less than 50,000 pounds. Yes, legal loads can be impacted by the weight restrictions.
One of the best ways to navigate the changes and complexities of traveling from Point A to Point B is to work with an experienced and knowledgeable transportation service. There are not any federal guidelines for thaw restrictions, and this means that some states may have restrictions that will last longer than other states.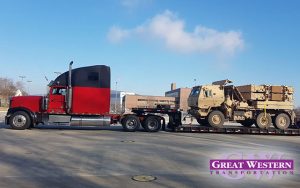 As you can imagine, large trucks carrying heavier hauls can cause a significant amount of damage to enfeebled roads. To prevent damage to the roads that are more susceptible to damage, many states have set specific restrictions for spring. If there are any seasonal weight restrictions, these should be discussed with the transportation service.
Knowledgeable and transparent transportation services are familiar with load restrictions and what it takes to deliver heavy haul shipments without violating any rules. At Great Western Transportation, we take pride in being able to deliver the best solutions for our customers and helping them avoid any extra costs, shipment delays, and headaches.
Contact us today to learn more about the seasonal shipping restrictions that can have an impact on your future heavy haul shipments.