Flatbed trucking is a good option when transporting large, bulky goods that require the open space of a truck trailer or lifting by a crane or forklift. There are several benefits of using flatbed trucking services.
The feature explains several benefits of using flatbed trucking services.
1.    It is Flexible
A flatbed truck is open, thus make it easy when loading. When there is no boxy wall, it will mean there is more room when it comes to loading and packaging. It can be difficult to load large goods in an enclosed trailer as it has confined space. The flatbed truck gives complete freedom on what one can put as it accepts the most oversized goods. It is also easier to offload the goods once they have arrived at their intended destination, saving on time.
2.    Variety of Materials
When you plan to transport a variety of goods, it is best to use flatbed trucking services. A flatbed truck can allow you to transport a high volume of several materials in one trip. Flatbed trucking is especially useful for transporting oddly shaped cargo, and it is also a big plus for loose materials. When you use flatbed trucking services, you can cut shipping costs and speed up completion time.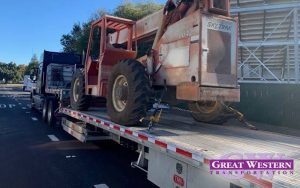 3.    No Loading Dock
Flatbed trucking does not have any restrictions when it comes to a loading dock. When you use a flatbed trucking service, the goods can be delivered to any location by the transportation company; this includes a residential neighborhood, a large construction site, etc.
4.    Secured Cargo
Transporting cargo via flatbed trucks is more secure. The loads in flatbed trucking are exposed; thus, experts use coil racks, chains, traps, etc., to prevent the cargo from shifting during transportation. The cargo will arrive at its destination unscathed.
To get the highest quality of flatbed trucking services, contact Great Western Transportation, and we will prioritize your needs.