So you have some heavy machinery that needs to be moved. At first glance, you might think it's a job you can handle on your own. But hiring professional movers with the right vehicles and equipment is always a better idea. In this post, we'll introduce to you some top reasons to let the pros transport your heavy machinery.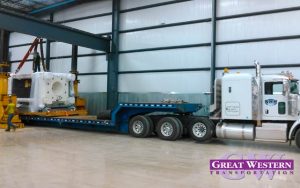 Your Machinery Will Be Transported Safely: When you try to transport heavy machinery yourself, there is no guarantee that it will be loaded, shipped, and unloaded safely. However, when you let the professionals literally do the heavy lifting, your machinery will be in good hands. And why? Because professional movers have the experience and skill needed to safely move large objects without damaging them.
You and Your Employees Will Be Kept Safe: Trying to transport heavy machinery yourself when you have little or no experience doing so comes with a lot of risk. Don't put you or your employees in harm's way by trying to do this job when a seasoned professional can do it for you. When you have the pros transporting heavy machinery, you won't be liable for any potential injuries that one or several of your employees could end up with.
You Can Save Time, Energy, and Money: Although you need to make the initial investment of hiring professional movers to transport your machinery, you can end up saving a lot of money in the long run. A professional trucking company already has all of the right equipment necessary to move heavy items so you won't have to purchase or rent a vehicle yourself. You'll also save time and energy because the pros will be doing all the work and you can dedicate your time to other pressing matters regarding your business.
Want to learn more about the benefits of hiring professional truckers for your heavy machinery? Contact us today!