Often times equipment exceeds the width of the roadways and requires special equipment and permits to haul legally and safely from one destination to the next. Relying on a reputable transportation company means you can spend less time worrying about state regulations and permits required for hauling oversized equipment, and more time focusing on the job at hand. This is where Great Western Transportation comes in. Let's take a look at 3 benefits to hiring professional transportation services.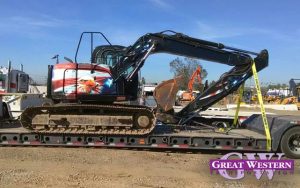 Less Equipment to Maintain
There is often times special equipment required for heaving hauling. These can include double drops, extendable trailers, removable goosenecks, and more. By hiring a transportation company you do not have to purchase and maintain special equipment that may only be used every so often. This can save you both money and time in the long run.
No Need for Special Permits
Heavy hauling requires special permits. The type of and the number of permits required varies by state. There's no need to worry about accidentally failing to obtain a required permit, facing delays and possibly hefty fines. Transportation companies are well versed in the special permits required and acquire the permits necessary to haul your oversized load.
Escort Vehicles
Depending on the load, often times escort vehicles are required to drive both ahead of and behind the load to warn other vehicles on the road. Transportation companies even arrange for escort vehicles if needed without you having to lift a finger.
When it comes to heavy hauling, Great Western Transportation arranges for all of the permits and logistics needed to haul your equipment from point A to point B. No matter the size, shape, or weight of your equipment, Great Western Transportation provides professional, expert, and punctual services to meet your needs. Contact us today for a free estimate!