Shipping construction equipment across state lines, across town, or across the country is not quite the same as moving personal items or furniture from your home. Needless to say, construction equipment is a considerable deal heavier and more time-consuming to move. That's why recruiting the services of a professional trucker is so important. And today, we'll introduce you to a few more reasons why hiring a pro is a good idea.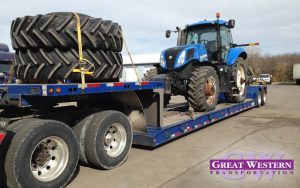 The Equipment Actually Can Be Moved: A large construction vehicle like an excavator can't be strapped to the back of your pickup truck. Heavy pieces of equipment require larger vehicles to be transported in, like a truck specifically designed for said equipment. When you hire the pros, you won't have to spend hours worrying about the logistics of transporting your large, heavy equipment.
It's Far Less Time-Consuming: When you rely on the professionals to do the heavy lifting (literally), you'll instantly be able to free up your time. This is particularly important if you are a business, like a construction company, instead of an individual who just needs some small equipment pieces transported. If you run a construction company and can't afford to waste precious time, hire the pros to move your equipment so you can focus on other pressing business matters.
It's Safer in More Ways Than One: When you decide to have the pros move your equipment, anything that is being moved is in good hands. If you try to move your construction equipment in the wrong kind of truck or other vehicle, there's no guarantee that your equipment will be kept safe on the road. Not only do professional movers keep your construction equipment safe, having the pros do the heavy lifting will keep you (and your employees safe). Pros are trained to move equipment safely and correctly.
Looking for more info? Contact us today!