Less-Than-Truckload trucking (or LTL Trucking for short) is a great service that Great Western Transportation offers. In a nutshell, like the name implies, LTL Trucking is when you have to move something or somethings across the continental United States or Canada and it won't fill up the entirety of our trailer. Rather than pay to haul a mostly empty trailer, LTL Trucking is therefore a more economical option for hauling goods across the country. However, that is just the tip of the iceberg in regards to what our LTL Trucking service offers.
Great Western Transportation offers many services when it comes to LTL Trucking that other transportation services may not offer. Great Western Transportation can also do the sorting and segregating of the goods you want to transport on our LTL trucks. We can also do the palletizing and shrink wrapping of those goods if you want us to. On top of that, we also offer distribution and warehousing services for the goods in our LTL trucks. Not many other transportation services offer these perks, but Great Western Transportation does.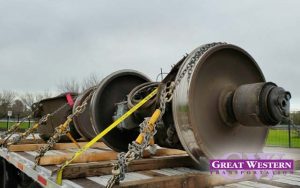 Our LTL Trucking services can haul several types of trailers too, and they each can accommodate different types of products and goods. Our refrigerated LTL Trucking service for example can handle the transportation of things that need to be kept cool across the country. So long as your load weighs less than 30,000 pounds, the knowledgeable and experienced staff and drivers of Great Western Transportation can help you put your goods on our trucks and haul them across the country to wherever you so choose. If you're not sure what type of service you'll need, Great Western Transportation can help you figure that out too.
So if you're looking for a great and economical option to haul some goods across the country, be sure to contact Great Western Transportation today to learn more about what services we offer.