Whether you're constructing a bridge in Miami, Florida or Sacramento, California, you'll need a company like Great Western Transportation to haul your bridge beams from wherever they're manufactured all the way to the build site of the bridge itself. Our expert truckers have years of experience in Heavy Haul Trucking and they will work with you and your company to efficiently and economically haul your construction material to wherever in the continental United States or Canada that you need it to go.
Our knowledgeable and veteran truckers will effortlessly set up and haul your oversized loads in no time. Whether it's bridge beams or the construction equipment that you need on the build site, our truckers have the skill and ability to do the job. Our truckers also have the equipment necessary to move your bridge construction equipment in a safe and timely manner, no matter the distance, so long as it's in the continental United States and Canada.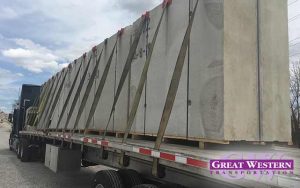 Great Western Transportation will also provide all the other legally required assets necessary to haul a overweight or oversized load across the country. Many states and many counties have their own permit requirements for hauling such loads and so our trucks and our drivers will handle such paperwork as well as get the best route possible to move your bridge building equipment as fast and as safely as possible.
Many places will also require an escort vehicle to accompany the truck as it's hauling the oversized load and we'll provide that as well. So if your company is building a bridge in the continental United States or Canada, be sure to use Great Western Transportation to ensure a fast and safe logistics chain for your operation.
Be sure to contact us today for a quote or if you have any other questions about our Heavy Haul Trucking service.