When it comes to hauling things that just won't fit inside a van, flatbed trailers are the best transportation solution for you. At Great Western Transportation, we have many different flatbed trailers that can accommodate many different loads that you'd want to move across the country.
Our drivers and our trailers can handle all the hauling needs of your company. Our flatbed trailers comes in all shapes and sizes and can accommodate things ranging from excavators and forklifts to cranes and generators. For example, our Step Deck Trailers are the best when it comes to hauling any equipment that can be driven. We also offer flatbed trailers that are suitable for loads that are either too wide, too long, or too tall for a trailer van.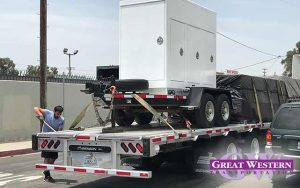 In addition to that, our staff and our drivers will ensure that your load is safely secured onto the flatbed trailer and that nothing happens to it when it's traveling to its destination. If your company needs to haul something that won't fit in a trailer van, then Great Western Transportation is your best bet as we will provide our decades of experience and knowledge to each and every haul.
If your load meets the requirements of being an oversized load, our drivers and our staff can accommodate that easily as well. With our Removable Gooseneck trailer, we can easily handle any oversized load. We'll also do all the paperwork that's necessary when it comes to moving big loads across the country. We'll also provide the escort vehicle that will follow the truck and its load and ensure that they get to their destination safe and sound.
So long as your destination is in the continental United States and Canada, our trucks and our drivers can do the job. Hauling big things is no easy feat, but our drivers make it seem like it is. With Great Western Transportation, hauling anything across the country is a safe and routine job.
If you want more information about which flatbed trailers to choose or if you want to get a quote today, please contact us.