The Shipping Container Revolution
The repurposing of new and used shipping containers has introduced solutions to many problems, such as affordable housing, short and long-term storage, and innovative commercialized projects. Storage is one of the top uses for repurposing these, not-so-expensive, steel containers.
Farmers use them for storage around their lands for equipment, hay, and tools.
Commercial businesses use them to store the information they cannot destroy, but need to keep for years.
People are becoming minimalists, and scaling down their living space to reap the rewards of a less-expensive and exciting lifestyle.
Organizations are using them to help rebuild communities and set up help stations after weather-ravaging storms leave homes in total destruction.
Entrepreneurs are using them to create unique customer experiences.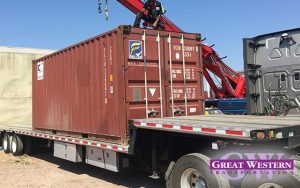 The Logistical Problem with Owning a Shipping Container – Relocation
When a shipping container is rented, it most likely can be moved, for a small fee, by the rental business. But, if you own a shipping container, relocating it can be a headache. There are things you must consider if you need to move a shipping container, as found on Super Cubes LLC. 
What is the distance you want to move your container?
What is the container size, and what is the total weight, especially if it's being moved fully loaded?
How are you going to load it for transportation?
Should you have it fully loaded before it's picked up for trailer placement?
How should it be loaded?
Do you need permits, if you need to move it along the roads and highways?
Let Great Western Transportation Handle All of Your Container Moves
Why even worry about everything you have to know to relocate a shipping container. That's what the team at Great Western Transportation takes care of all the time. Great Western's Power-Only division handles everything for you. We safely relocate your shipping container with total compliance.
All you need to do is call us, and we'll get all the information we need, give you a great price, and you will have the company you need to help you whenever you need us in the future. It's what we do, and it is our goal to make life easier when logistics and power are standing in our customer's way.