Many factors will affect the price of shipping oversized or bulky equipment. Large equipment such as bulldozers, forklifts, RV's, excavators, tractors, and mining equipment will all demand different prices depending on the weight, length, and height of the objects.
What to consider before estimating shipping costs?
The first thing you should do is determine the weight and dimensions of the items being shipped in order to get a price estimate for total shipping costs. The length and weight of the items being shipped will play an important role in helping your shipping service provider give you accurate prices for shipping your heavy equipment. For example, is the total gross weight of your equipment over 80,000 pounds? Is it over 13.6 feet tall? Is it over 48 feet long? All of this information is important in determining your total shipping costs.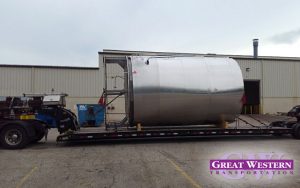 How to estimate shipping costs
At Great Western Transportation, we understand that our clients expect reliability and the best quality services their money can buy. That's why we put just as much effort into making sure our clients are aware of exactly how much it will cost them to ship their heavy equipment loads as we do in providing reliable, professional, cost-efficient shipping services.
The following factors are the main contributors to determining shipping costs:
Size of load
The size of the load is a determining factor of price because larger loads will require more axles and a larger truck for shipping your heavy equipment. The length and width will also determine the type of trailer you will need, which in turn will affect the overall costs of shipping. Also, larger loads can also affect price due to higher insurance requirements.
Labor and materials
To ensure safe and reliable shipping of your equipment, it will require additional materials for packaging and securing your equipment as well as labor costs for shipping, loading, and unloading. These costs can also include fuel, insurance, and tracking services.
Distance and location
The cost of shipping your heavy equipment is also affected by the distance and mileage accumulated during the trip. Therefore, shipping locally to one location will be much cheaper than shipping your equipment interstate or to multiple locations.
Need a free quote on how much it will cost to ship your equipment? Give us a call as soon as possible!