Flatbed trucking is a great option for businesses that have large or heavy items to ship. Flatbed trucks are designed specifically with the ability to haul large, heavy cargo. They can be used to transport anything from furniture and appliances to machinery and construction materials.
The flatbed design allows drivers to load their cargo securely without having it shift around in transit, which means less risk of damage or breakage during transportation. This type of truck also requires little-to-no loading time due to its efficient design; you can pack your freight on top of the cab and secure it with straps before driving away!  In addition, this type of truck has fewer turn restrictions than an average semi-truck because they don't require as much clearance.
Here are the top three most important benefits of shipping your cargo with flatbed trucking.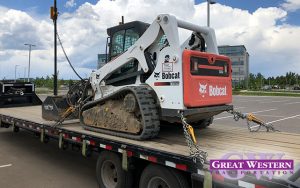 1. Flatbed trucks can handle large freight
Flatbed trucks can transport large quantities of heavy equipment and materials with ease. Due to the versatility in material that construction companies need, they often use the services of flatbed truckers who are well-versed at securing loads on their vehicles' backs for safe transportation.
2. Flatbed trucks are easy to load and unload
Flatbed trucks are designed to make it easy for the freight to be loaded and unloaded. Some flatbeds come with modifications or specialized equipment that allow them to work better than others – such as built-in loading ramps and drop decks. This not only makes the process easier, but also safer because both employees of a company using these trucks along with their cargo will remain protected during shipping.
3. Flatbed trucks are versatile
The flatbed truck is one of the most versatile pieces of equipment. It can be used to transport anything from basic framing lumber and other essential supplies for a housing project, all the way up to high-volume items such as furniture or appliances that are too heavy for standard delivery trucks.
The best part about flatbed trucks is they make it easy on your wallet. With the ability to cut shipping costs and get projects done faster, this makes it your best bet for profit margins!
Great Western Transportation provides flatbed trucking services to help you get your freight where it needs to go. Whether it's a big or small shipment, we have the resources and experience needed for all of them! Contact us today to get started.