Eventually, there will come a time when you will need heavy hauling services. Fortunately, there will be many heavy hauling transportation services for you to choose from. Heavy hauling companies will have many key similarities, but they will also have a variety of key differences. It is important that you make sure your choice of heavy hauling companies will include one that offers the products, services, and equipment you need to complete your project.
Heavy Hauling Services
When you have a project that requires the services that a heavy haul transportation service provides, we encourage you to do more than seek a transportation provider that will offer only heavy haul trucking. When you partner with a transportation provider that offers multiple services you will find that your project will be completed sooner. Heavy hauling and regional areas and local areas will provide you with the opportunity to have the project completed in town or outside of town. Some transportation services will also provide cargo services that will be able to control cargo going in and out of various areas.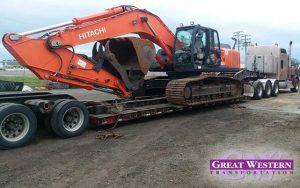 Fulfilling Compliance Standards
After you have decided that the company you are considering does have the services you need to fulfill the job, it is important that you take the proper steps to ensure your company will not be placed in harm's way. You will need to ensure that the transportation service you are considering meets the compliance regulations and standards.
Heavy haul trucking is regulated in the United States, as it should be. Before you take the leap of faith and work with a transportation service, we encourage you to ask questions about their standards and how compliant they are. It is important that you know if they are actually working to meet those standards that are obligated to fulfill.
The transportation service will be required to have different types of permits that allow them to carry the type of goods and equipment that you need to be transported. If you do not ensure that the transportation service is meeting those standards, your equipment and your company could be at risk.
It is also important to remember that the transportation service will have to do more than meet compliance standards. Yes, meeting compliance standards is important, but following the proper safety measures is also important. The transportation service should be willing to explain their safety measures and the process they take to ensure your equipment, goods, cargo, etc. are protected.
Solid Communication
If you are considering working with a transportation service provider but you are having a difficult time reaching someone from the company, this could be a warning sign that you should move on to the next one on your list. If you cannot reach someone to have your questions answered during your research phase, this could be a sign that things will continue to be this way later down the line.
You need to partner with a service provider that offers great customer service and reliable communication. When the transportation service provider offers quick and reliable communication, you will have the peace of mind that the company will be there whenever you need them. It should not matter what stage you are in during the project, you should always be able to have your concerns addressed.
Not every heavy haul trucking company will have all the attributes you need to help you fulfill your obligations, and this is why it is important to ensure the heavy hauling company is a perfect fit for you.