When it comes to moving cargo across the USA and Canada, there are several trucking methods to select from. And at Great Western Transportation, we provide all of them. For freight that requires to be transported in a temperature-controlled enclosure to arrive at its destination in good condition, we recommend Refrigerated shipping as the best option.
For cargo that is not of the standard trailer size and that does not require enclosure when transporting our experts will advise on flatbed transportation as the most suitable. And for shipments that are too wide, too heavy or too tall to be accommodated by any other trucking option, our heavy haul trucking option will have you sorted.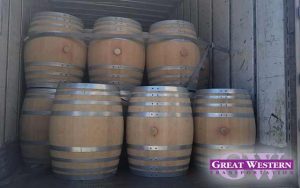 But what about transporting cargo that comes in standard cargo size, that needs to be enclosed but does not require to be temperature-controlled? What freight transportation method should you be looking at? We suggest Dry Freight Trucking, and here is why:
Security
When it comes to transporting cargo, the guarantee that in the process of moving from point A to point B nothing will be lost or damaged is paramount. And with our dry shipping trucks fully equipped with chains, straps and load bars to secure and brace freight, we can guarantee the safety of your shipment against damage or theft.
Versatility
The list of cargo that can be accommodated and transported by our dry shipping trucks is extensive and limitless. From furniture collections, building materials to all forms of non-perishable foods, we can move them from one location to another anywhere in the USA and Canada.
Efficiency
With dry freight trucking, the hassle of loading and unloading cargo can sometimes be avoided. We make this possible through our drop and hook load mode of trailers for dry shipping. We simply drop our empty trailer and hook up your already loaded trailer. No need to unload from your trailer to load onto ours. This way we get on the road sooner and your cargo get to the destination in good time.
One last thing…
You don't have to have a Full Truckload to outsource our dry freight trucking services; we handle Less than truckload (LTL) shipments too. Contact us today and have all your transportation needs addressed and get expert advice on the best trucking solution for your load.