If you need transport for something oversized, heavy or bulky, your best choice is to use a flatbed trailer.  Along with that decision comes a whole slew of worries.  There are many factors of trucking that need to be taken into consideration.  What kind of flatbed trailer will you need (there are several options) and how will you get your shipment loaded?  What about weather worries and securement?  Let Great Western Transportation show you how we can make shipments go from perplexing to peaceful.
Trailer Selection
A flatbed is a type of trailer, but did you know there are many different kinds of flatbeds?  Depending on what you need to haul, some flatbeds are better suited for a particular job more so than others.  RGNs, stretch trailers and step decks are just some of the types of flatbed trailers that we work with.  Let our transportation experts help you decide which flatbed trailer is perfect for your needs.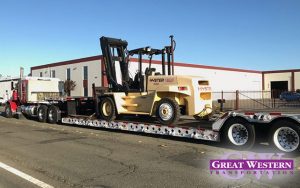 Loading
Flatbed trailers are perfect for loading and unloading as well.  Because the sides are open on flatbeds, they can be loaded on the sides or the back of the trailer and use of a loading dock isn't necessary.  The fact that you can use forklifts or cranes to load a flatbed, along with the ability to place the cargo easily so that you can have a balanced load, make this a winning way to ship your freight.
Weather
Some shipments will be fine if exposed to the elements, but every case is not the same.  When you have a consultation with Great Western Transportation, we can help you decide what needs you have for the freight you are moving.  If your load needs protection, we will positively make sure that the right sized tarps and tie downs will be used, ensuring that it gets there safely.
Securement
Did you know that flatbed loads can shift while being transported?  If this happens, the weight can be distributed unevenly, causing a real danger.  Our large network of professionals will make sure that this is not another worry on your list.  Freight will be secured according to the Department of Transportation standards.  The specialists in our network will be checking the load and its securement at every checkpoint and stop along their route.
There are many factors that play into the shipping needs you have.  Ultimately, you want your cargo to get to its destination safely and securely.  Great Western Transportation can do that, making sure that we fulfill all of your logistics needs.  Please contact us with any questions or comments that you may have. We are always ready to help.