Transporting oversized loads like industrial machinery can be logistically challenging if you don't have the idea and experience of transporting them. These types of loads require special handling, special equipment, optimized routing, and permits from the relevant government authorities. Without these requirements, heavy loads can compromise the safety of truckers and other roads users.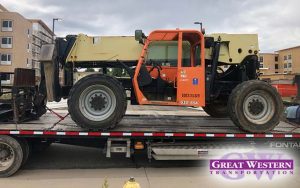 In this article, we look at the common frequently asked questions about heavy haul trucking.
1.      What is Heavy Haul Trucking?
There are load sizes that are considered normal in the United States and Canada. Any item that exceeds the typical dimension or weight is considered a heavy load and requires special trucking.
A heavy load exceeds the following:
Width 8.6 ft.
Height 13.6 ft.
Length 48-53 ft., and
Gross weight 80,000 lbs.
However, the federal government restricts weight depending on the type of axle you are using. Here is the axle type and the maximum weight they may carry:
Steer axles – 12,000 lbs
Single axles -20,000
Drive axles – 34,000
Tandem axles – 34,000
2.      What Permits Do I Require for Heavy Hauling?
You require the appropriate documentation and permits for heavy haul trucking before every shipment. But these regulations vary. You might be required to get city, county, municipal, or special permits for some type of shipment. The permit outlines the time you are allowed to transport the heavy load and details about the operating hours.
3.      What Else Do I Require to Transport a Heavy Load?
Trucks hauling heavy freight must be well-marked with explicitly visible signage. You might also require "oversized load" banners, safety flags, lights, and pilot/escort cars to clear the road. These requirements vary among states.
4.      Where Can I Transport Heavy Haul, and What Are the Restrictions?
There are no restrictions. You can haul heavy loads through the United States, Canada, and Mexico. But you or your truck drivers must be over 23 years and have the required driver's license.
Work With the Best
You need a reliable freighting company to ship your industrial machinery, building supplies, pre-built house, or any heavy load. Great Western Transportation is your ultimate transportation services company across the United States and Canada. We ensure that your item arrives at your destination with minimum glitches and within the given time frame.
Please don't hesitate to contact us today for all your heavy truck hauling needs across the United States and Canada.