As a transportation service provider, our focus with flatbed trucking at Great Western Transportation is meeting the needs of our customers. Shipping demands are heavy and timely for our clients, and we must exceed them. This is why our flatbed trucking services fulfill most of what our customers need for shipping freight loads. Here are three reasons why you should choose our flatbed services.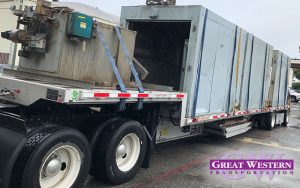 Construction Equipment Heavy Hauling
When dealing with a construction site, equipment hauling is a huge task. Tractors, dozers, cranes, and machinery must be moved with extreme care. Transportation services at GWT ensure the process goes seamlessly. Our company procures services for heavy duty flatbed hauls involving construction equipment in work zones and high traffic areas.
Side Loading Capabilities with Flatbed Trucking
A major benefit of choosing flatbed trucking services is the side loading capability of these trailers. A flatbed trailer is completely open around all sides, unlike a dry van or refrigerated trailer. Also, while freight can be loaded from the side, Conestoga flatbed trailers have removable sides. This allows for easy loading along with complete enclosure of freight.
Securing Freight in All Weather Conditions
This brings up the next reason why you should choose our flatbed trucking services. Along with being able to load from the side, flatbed trailers can easily be covered with a tarp. A tarpaulin cover, better known as a tarp, is a waterproof blue sheet of heavy duty material. It is made to secure freight loads against weather, as well as damage and theft. Tarping and strapping loads is also required by the Department of Transportation (DOT) for most flatbed hauls.
Contact GTW for Flatbed LTL and Full Truckloads
Whether you need to transport flatbed LTL hauls or full truckloads, Great Western Transportation has your freight covered. Contact us for a quote on services today.