Flatbed Trucking for Heavy Equipment at Great Western Transportation
Flatbeds are the best way, and sometimes the only way, to transport heavy equipment like bulldozers and excavators. This is because a flatbed trailer allows for dimensional flexibility, and also because some loads just won't fit in box truck or standard trailer. They can also be loaded from any side, not just the back, which can be a huge advantage when shipping heavy construction machinery to and from jobsites.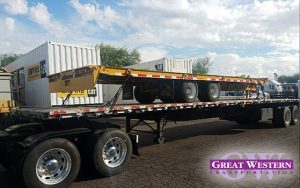 Flatbeds Defined
Flatbeds are just basic open trailers. Per Great Western Leasing "Most flatbed trailers are between 45′ to 53′ long and 96″ to 102″ wide. Flatbed Trailers are made of Steel, Aluminum or a combination of Steel and Aluminum. Generally, a flatbed trailer weighs 8,500 to 12,000 pounds." You might hear them called:
Floats
Flats
Highboys
Flatdecks
Flatbed Trailer Arch
When unloaded a flatbed trailer actually arches A LOT!  Take a look at an unloaded flatbed trailer next time you're on the highway. You'll notice a significant arch. Compare that to a loaded flatbed and you'll see less arch. The heavier the load, the flatter the trailer. Even consumer level flatbeds like 18′ car haulers will arch quite a bit once loaded.
Metal Fatigue
Del Williams of Feedlot Magazine writes "The repeated loading and unloading of heavy items, such as tractors, pipe, and farm implements, can strain a trailer's frame and supports.  So can loads brought in from the side…" Heavy machinery puts quite a lot of weight on our flatbeds, our drivers are trained to inspect their rig and load correctly and often.
Heavy Equipment / Oversize Loads on Flatbeds
Flatbed trailers are almost always used to move oversized, over dimensional and overweight heavy machinery shipments. Loads greater than 8'6" wide is considered over width, and will need special permits from most of the states you travel through. Freight over 11'6″ wide will also require a Pilot Vehicle in most States.
Don't trust just anyone to haul your heavy equipment! We are heavy load / oversize / overweight experts here at Great Western Transportation. Contact us today for a quote!