Acquiring new construction machines and implements is no small feat in the construction industry. But now that you have finalized the purchase, how will the equipment be transported from the dealer to your location? Better yet, how will it be shipped?
More often than not, construction equipment will be wider, more massive and taller than the standard load. So your average trucking service provider may not be cut out for the job. Who you need to transport your construction equipment is an experienced heavy haul trucking service provider, just like us at Great Western Transportation.
With over 100 years of combined experience in the trucking business, we guarantee we have the resources, and our team is capable of handling all freight needs for your construction equipment.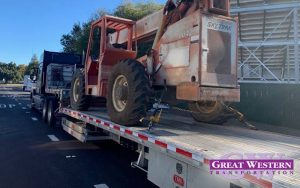 Depending on the accurate weight and measurements of your construction equipment, our team of heavy machinery handlers will determine the best way to ship your machinery and select the most appropriate trailer to be used for transportation.
Furthermore, our team will secure all the necessary permits required to transport your equipment as long as it is within Canada and the USA. Lastly, we will map out the most suitable route to get your construction equipment from its pickup station to your desired destination. At the end of the day, our goal is to deliver your construction equipment in the shortest time possible and get you working on the next job in good time.
Because of the extreme caution needed when transporting construction equipment and the time-consuming nature of the process, it is in your best interest to not only outsource expert heavy haul trucking service providers but also reliable ones.
A reliable team will always have the resources needed to ship your construction whenever and wherever you need them to. And this our customer guarantee here at Great Western Transportation. So, if you need to ship or transport construction equipment, from excavators to dozers, contact us today to make arrangements on how they'll get to your location soonest and safest.