Buying large equipment at an auction is exciting. At auctions, it's possible to buy big ticket items in excellent condition, at a fraction of the price you'll find them at a traditional store. They're also treasure troves for people looking for specific items that are otherwise out of stock.
But when it comes to transporting these large items, stuffing them into the back of your sedan car isn't going to do it. Hauling large auction items requires special considerations and care. Here are a few things to keep in mind when you need to transport large auction-bought equipment: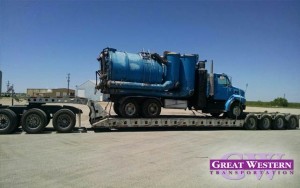 Have a plan in advance. If possible, go in knowing what equipment you plan to buy and have a plan set up for transporting it. It's much easier to set up auction transportation ahead of time.
Know what kind of hauling equipment you need. Will your auction equipment fit in a trailer, a u-haul sized truck, or do you need a large truck? Make sure you know how big your items is so you can reserve a proper vehicle.
Learn about licenses. You can use your regular drivers license to drive some large vehicles and trailers. However, for commercial large vehicles, you'll need a special license or to hire a licensed commercial driver.
Get a game plan for lifting the equipment. You can't get large, heavy equipment on a truck with a few strong people. Instead, you need a crane or other heavy hauling equipment. Find out what kind of equipment your item needs to load it onto a truck, and reserve it.
Get federal or state permission. If you're taking equipment between the US and Canada, or over state and provincial lines, check to see if you need special permission from customs, the state or province. This will save time and risks of fines.
Instead of dealing with the stress of hauling your own auction equipment long distance, leave the job to a professional. At Great Western Transportation, we'll do the hard work for you and get your large auction equipment to your destination in the continental US or Canada. Contact us for more information and a free price quote.