Plans For Heavy Equipment Transportation
Transporting heavy machinery is no easy task. The logistical aspects of transporting heavy machinery alone can be frustrating, especially with regards to securing the right permits and scheduling the trip.
Even making sure the equipment is ready for its trip can take time, but this is one of the most important considerations. If the owners and operators of the machinery fail to do this adequately, they can end up damaging their equipment along the way. They must at least make sure they cover the basics.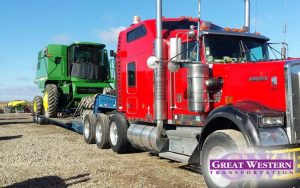 Modifying Machines in Specific Ways
Some machines should have their batteries removed before the transportation process. They might have parts that need to be tightened before a trip. It's also generally a good idea to get rid of the engine fluids beforehand as well. People who want more considerations that are specific to different machines should read the manuals associated with them to make sure they didn't miss anything.
Protecting the Machines Against the Elements
Many pieces of heavy machinery are not perfectly resistant to the wind, heat, cold, and the moisture in the air. Certain parts of the machines might be particularly prone to damages associated with the weather. The machinery will be exposed to the open air at different points throughout the journey. It's important to make sure that the machines get some additional protection from the elements, even if only specific parts need to be protected.
Contact us in order to learn more about the transportation of heavy machinery.