Moving heavy machinery for construction and manufacturing jobs is a highly daunting and complicated task. This is simply because it demands careful handling, shipping, and unloading of the heavy equipment. Thus, you need to hire professional transporters to minimize the risk of potential damage to your costly equipment during transit.
Beyond checking the company's experience, here are other factors you should consider when choosing the right transporting company:
CONSIDER YOUR BUDGET
The first step to choosing the right company for transporting heavy equipment is coming up with a budget. Ask the various companies how much they'll charge to get the job done. Then, based on the quotations you'll receive, narrow down your options to two or three companies that are within your budget.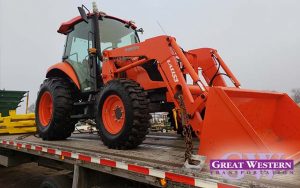 CHECK THE COMPANY'S CREDIBILITY
Next, you need to confirm the credibility of these companies. Credible companies will typically offer you excellent services. One of the best ways to confirm a company's credibility is by visiting the website of each company. A reputable company should ideally have many positive reviews from their previous clients.
If a company doesn't have online reviews, you can request them for personal references from their present or previous clients. Gather enough information about a company's services from the contacts provided. You can then shortlist some companies based on the information you've collected.
LICENSING AND INSURANCE
Check whether the companies you've shortlisted are insured and licensed to operate. Transporting heavy machinery has potential risks, and you don't want to work with a company that doesn't have the necessary certification to operate.
Working with an insured company ensures that you remain covered against any losses that may occur during transit. For that reason, make sure that your shortlisted companies can provide you with cargo insurance.
SAFETY MEASURES
Efficient moving of heavy construction machinery doesn't only mean being fast and timely, but also ensuring safety and transparency throughout the entire process. Enquire about the safety measures they've put in place and how they plan to manage your shipment. Get also to know their workplace safety procedures for those who will be involved in the project.
Are you looking for a reputable transporting company of your heavy equipment? Check out our website for the best transportation services for heavy machinery.