Wondering how you're going to ship your heavy construction equipment safely? Well, there are many ways transportation of heavy bulldozers, and other construction equipment can go wrong without proper planning. But, by ensuring the necessary measures you can have a much safer and seamless shipping process.
Follow these 5 simple steps to ensure the safe shipping of your construction equipment:
DETERMINE THE DIMENSIONS
The first step to having a smooth transit of your construction equipment is determining the exact dimensions of your equipment. Don't rely on the manufacturer's specs instead; gather the correct dimensions by measuring the equipment's height, width, and length.
For the machinery's weight, you can check from the user manual provided. Then you need to include the weight of all the attachments to obtain the exact weight.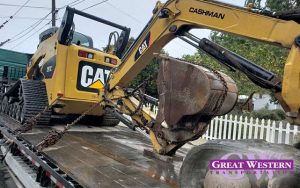 CHOOSE A SUITABLE TRANSPORTATION TRAILER
Once you've obtained the right dimensions of your equipment, you can select your preferred transportation trailer. Your choice of the type and size of trailer to use should be based on factors like parts that require dismantling, the size of the cargo, and ease of loading and offloading.
Your shipping company, however, should help you choose the most suitable trailer for the job. This will prevent choosing a trailer that's either overly small or too big for your equipment.
PREPARE EQUIPMENT FOR TRANSIT
Next, you need to prepare the equipment for shipping. Proper preparation may require you collect valuable information on the manual.
The manual should include specific instructions on how to disconnect batteries, securing loose parts, emptying engine fluids, and even latching doors closed. This way, you can break the different parts of your equipment down into loads that fit on a trailer.
COVER SENSITIVE PARTS
To ensure the safe transit of your equipment, you need to cover vulnerable parts such as the fuel tanks and smokestacks. This helps protect your machinery from factors such as harsh weather conditions. Then, secure the covering tightly to prevent it from getting blown off during transit.
ACQUIRE THE NECESSARY PERMITS
Lastly, you'll need to obtain a shipping permit for any overweight and oversize cargo. This is a crucial step as cargo that exceeds the required dimensional limits by the state may demand special handling. Also, depending on the size of your cargo, you may need special offloading equipment such as ramps, cranes, and loading docks.
Are you planning to transport your construction equipment but don't know where to start? Contact us today for a safe, timely, and professional shipping of your machinery.