Heavy Haul Trucking, or trucking that involves the hauling of loads that meet the definition of being an oversized load, is no easy feat. Getting the load onto the trailer may be the easiest part of the whole journey, as legally speaking, there are many other considerations when it comes to hauling heavy loads. However, all that headache and stress can be avoided simply by hiring Great Western Transportation.
The government has a lot of laws and regulations about hauling heavy loads. Most of these laws are actually state and local laws, and so they can change depending on the route that the truck and its load takes. These regulations are related to many aspects of the haul, such as how tall the load is, how wide the load is, how heavy the load is, etc.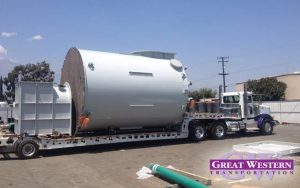 At Great Western Transportation, our expert team will handle all of that legal work for you. No matter where in the continental United States or Canada that your load will need a permit, we'll get one. If the government demands that your load have an escort vehicle follow it around, we'll provide one too. In addition to that, we'll also handle everything else in relation to the haul.
We'll ensure that it's securely strapped onto the trailer so that it remains safe throughout the journey. We'll also provide any additional equipment that's necessary to safely transport your load. Our drivers are professionals and they'll haul your loads quickly and with the utmost care. When you choose Great Western Transportation to haul your oversized loads, you'll rest easy as you're guaranteed that your load will reach its destination safely and on time.
If you or your company needs to move something that's considered oversized or overweight, please contact us today for a quote. We also offer other hauling services for smaller loads as well!