Whether you need to move some farm equipment, heavy construction materials, or any other item that simply won't fit into the back of a moving van, you should always opt for a transportation service for a multitude of reasons. And just why is it better to go with the pros than go it alone? In this post, we'll introduce you to some of the biggest reasons why you should hire a professional to transport your heavy machinery.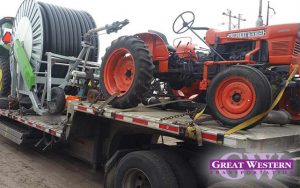 The Pros Are Equipped With The Right Vehicles: There are certain kinds of heavy machinery that simply cannot be delivered on the back of a pickup truck or in a u-haul. That's when it becomes time to call in a professional transportation service. A transportation service will have the right trucks and moving vehicles to safely deliver your heavy machinery from point a to point b.
A Transportation Service Will Get Your Heavy Machinery Delivered Safely: If you try to move your heavy machinery on your own, you are running the serious risk of potentially damaging that equipment. The pros know how to securely get the heavy machinery into their transportation vehicles and deliver them to the new location without any safety issues. Not only will your heavy machinery be kept safe, you will be much better off having professionals handle the equipment, thus keeping you out of harm's way.
The Moving Process is Smoother: Relying on pros to move your equipment means the entire process will be easier, smoother, and less-time consuming. Additionally, if you add up the cost of trying to move the machinery on your own (hiring movers, procuring the correct moving vehicle, and so on), it will likely add up to cost more than simply hiring a full-service transportation company. Make things easier by working with a company instead of trying to go through the process alone.
Looking for more information? Contact us today!